Farmers' protest turns violent in Bihar's Buxar after midnight raid by police
Jan 11, 2023 04:00 PM IST
The farmers attacked the policemen who tried to control the mob and pelted stones at Satluj Jal Vidyut Nigam (SJVN) power plant at Buxar's Chousa locality
A group of farmers protesting over compensation for land acquisition turned violent and attacked the policemen who tried to control the mob in Bihar's Buxar district on Wednesday morning.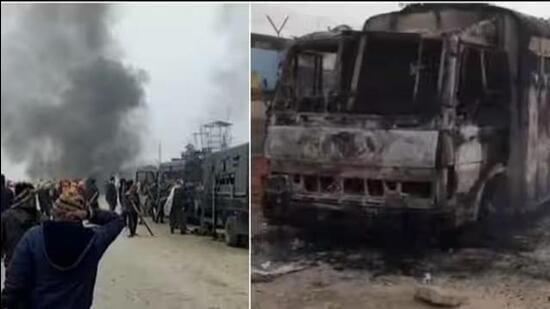 The farmers claimed that they had been protesting peacefully against the Satluj Jal Vidyut Nigam (SJVN) power plant company at Buxar's Chousa locality for a new rate of land acquisition for the project at rates decided 12 years ago when the plots were bought. The construction of a 1320 MW coal power plant began at a cost of ₹11,000 crore in 2021.
The farmers pelted stones at the police as well as the power plant. They carried sticks and rods and vandalised police vehicles and set on fire a vehicle. They also burnt tyres at the main gate of the SJVN plant and blocked the road.The police tried to control the situation after firing in the air but the farmers continued their protest. Four cops were said to be injured in brick batting and attack while a heavy contingent of police deployed at the spot.
The farmers had been staging protests here for the past 85 days. On Tuesday, they protested before the bolted main gate of the plant demanding current values/price for their agricultural land being acquired by the state-run power company.
Around 11.45pm on Tuesday, a large number of police forces reached Banarpur village under Muffasil police station area, allegedly broke open the houses of some farmers who were sleeping with their family members and thrashed them with batons and boots.
Police detained four persons including Narendra Tiwary who were leading the protest. They also allegedly assaulted the women and used filthy language against them. The police action was caught on camera and went viral on social media.
Prime Minister Narendra Modi had laid the foundation stone for the plant on March 9, 2019. SJVN is joined by the Himachal Pradesh government and Centre to construct a power plant in which 9,828 million power units will be produced. 75% work are said to be completed and 85% power will be supplied in Bihar.
According to the Buxar district administration, a rail corridor will be constructed on 137.0077 acre land of 14 villages. The government will acquire 55.445 hectare land from 309 farmers of Chousa.
ADG (headquarters) Jitendra Singh Gangwar told HT that a contingent of police force besides Sahabad range DIG Navin Kumar Jha rushed to the spot to bring the situation under control. "The reason behind the incident is said to be related to compensation," said Gangwar. He, however, did not comment on why the policemen had raided the house of farmers and thrashed their family members.