Two labourers injured after under-construction bridge collapses in Bihar's Purnia
Feb 01, 2023 05:31 PM IST
Executive engineer Ramu Ramu Prasad, who reached the site late Tuesday evening, alleged that the contractor violated the guidelines being issued to him regarding the construction of the bridge
At least two labourers sustained minor injuries after an under-construction bridge caved in Bihar's Purnia district on Tuesday, officials said.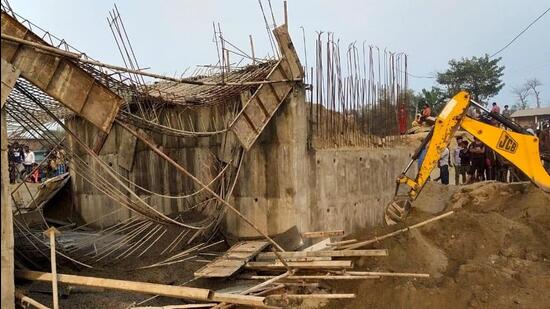 According to the officials, the 20.10-metre-long bridge that was being built over Dumuhni stream located on Mala- Sakarbaliya Road at Baisi in Purnia district caved in on Tuesday evening.
This is the third such incident within six months in Bihar. Executive engineer Ramu Ramu Prasad, who reached the site late Tuesday evening, alleged that the contractor violated the guidelines being issued to him regarding the construction of the bridge.
Also Read: Airoli residents fume over incomplete mangrove fencing
"We have taken it seriously and we'll write it to the superior authorities to blacklist the contractor," he said. He said that the contractor, identified as Md Taksee, was served show-cause notice in this regard right there and then.
Meanwhile, the injured labourers were taken to Baisi public health care after first aid and were discharged after treatment.
Locals alleged that the contractor, despite their objections carried on building the bridge by using substandard materials. "The contractor has been infamous for substandard work," alleged locals and demanded to blacklist him from all the works.
Earlier, a portion of a 206-meter-long under-construction collapsed in Bihar's Begusarai district before its inauguration on December 10 last year.
The labourers were injured after an under-construction reinforced cement concrete (RCC) bridge collapsed in Bihar's Katihar district in July last year.