Umesh Kushwaha re-elected as Bihar JD(U) chief
Nov 27, 2022 04:30 PM IST
Kushwaha takes over at a crucial time when his new three-year tenure would witness the Lok Sabha Elections in 2024 and state Assembly elections in 2025
Janata Dal (United) state president Umesh Kushwaha was on Sunday was elected unopposed for another term at the state council meeting held at the party office in Patna, Bihar. Chief Minister Nitish Kumar handed over the certificate to Kushwaha.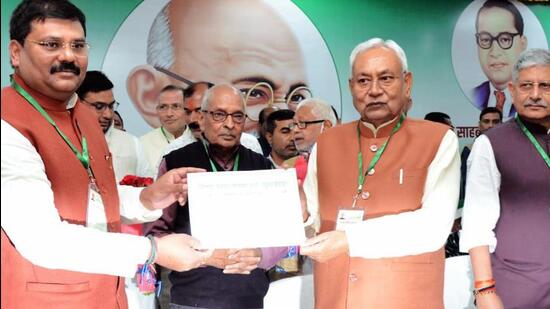 As there was no other nomination filed, Kushwaha was the sole contender for the post. Kushwaha was made the state JD(U) in January 2021 after veteran party leader Vashishtha Narayan Singh stepped down citing health reasons.
Kushwaha takes over at a crucial time when his new three-year tenure would witness the Lok Sabha Elections in 2024 and state Assembly elections in 2025.
Also Read: Need to go after liquor smugglers, Patna holds key to success, says Nitish
All the senior party leaders, including JD(U) national president Lalan Singh, ministers Bijendra Prasad Yadav and Vijay Kumar Choudhary and others were present on the occasion.
After his election as the party's state chief, Kushwaha thanked the CM and senior party leaders for reposing faith in an ordinary party worker like him once again.
"I will work hard to live up to their expectations and strengthen the party. I know the enormous responsibility this position brings. My endeavour will be to use this challenge as an opportunity to make Bihar Bharatiya Janata Party (BJP)-free," Kushwaha said.
People of Bihar know that JD(U) has a leader in Nitish Kumar who has transformed Bihar, he added.
Kushwaha became the MLA from the Mahnar seat in Vaishali for the first time in 2015 but lost in 2020 when JD(U) was relegated to the third position in the seat tally. He was elected as the party's president in 2021.