After being spruced up for G20, gutka stains, garbage back on Pune streets
Published on Jan 22, 2023 10:56 PM IST
A week after the G20 Summit and the stretches which the Pune Municipal Corporation (PMC) had spent crores of rupees to concretise and beautify are back to normal, be it the reappearance of garbage or illegal hoardings defacing them or the disappearance of lights or flowers beautifying them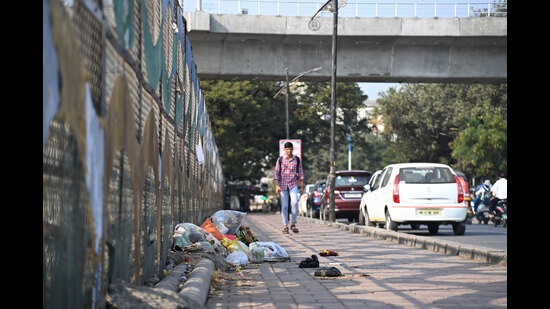 A week after the G20 Summit and the stretches which the Pune Municipal Corporation (PMC) had spent crores of rupees to concretise and beautify are back to normal, be it the reappearance of garbage or illegal hoardings defacing them or the disappearance of lights or flowers beautifying them.
Sudhir Mehta, former president, Mahratta Chamber of Commerce, Industries and Agriculture (MCCIA), tweeted, "I was driving this morning on the roads which had been spruced up for G20 in Pune. The garbage on the streets is back. Ashamed at our collective failure as a city to ensure basic cleanliness. Unless we change this, our city will remain an 'also ran'."
Similarly, the earthen pots placed at Omkareshwar bridge have been removed only to be replaced by garbage. Unauthorised hoardings removed before the meeting at Nagar road have reappeared in a few places while plants in earthen pots have wilted in the absence of watering. The plastic patakas installed at Ganeshkhind road are now lying on the road.
Bonny Uppal, a citizen, said, "The flowering plants in the flower bed outside J W Marriott hotel are being pulled out; every morning, I see less of them and more of mud spilled on the road. If this can happen outside a hotel where there is security at the gate, what can we expect." Another citizen posted a picture of Law College road, enveloped by darkness in the early hours of the morning.
Ahead of the G20 Summit in Pune last week, the state government had approved Rs45 crores for concretisation and beautification of the city, and the Pune Municipal Corporation (PMC) had covered up the dirt and trash and beautified several stretches to generate a feelgood factor. Punekars were pleasantly surprised by the move but they were also disappointed that while stretches where the G20 delegates would travel had been repaired and beautified, many other works that had been pending since a long time, causing inconvenience to the citizens had been ignored. Now that the garbage has returned, the digging of roads has resumed, and the plants and flowers placed on footpaths to welcome the delegates have been removed by the civic authorities barely a week after the G20 Summit, Punekars are having the last laugh.
Qaneez Sukhrani, convenor, Association of Nagar Road Citizens' Forum, said, "There was to be a two-day workshop in Pune on various aspects of infrastructure investment, financials, promoting quality in infrastructure, identifying innovation in infrastructure, financing the cities of tomorrow etc. Hence, it would not be surprising if very soon, the government announces major sops for the realty and construction sector. During the last two months, various new beautification works were seen on the G20 delegate routes even as other parts of the city were ignored. While a list of things was purposely ignored or reversed namely, repairing potholes, stoppage of water supply every Thursday, illegal constructions, garbage dumping and footpaths being taken over by various encroachments."