After failed attempt, PMPML to relaunch 'women only' service
Nov 27, 2022 11:30 PM IST
Beginning Monday, the Pune Mahanagar Parivahan Mahamandal Limited (PMPML) will start special buses for women on 19 routes across Pune and Pimpri-Chinchwad
Beginning Monday, the Pune Mahanagar Parivahan Mahamandal Limited (PMPML) will start special buses for women on 19 routes across Pune and Pimpri-Chinchwad. Earlier too, the public transport body had tried to run similar such buses when midi vehicles branded 'Tejaswini' were launched by it on various routes. However, due to poor response followed by the Covid-19 pandemic, all passengers were then allowed to travel by these buses.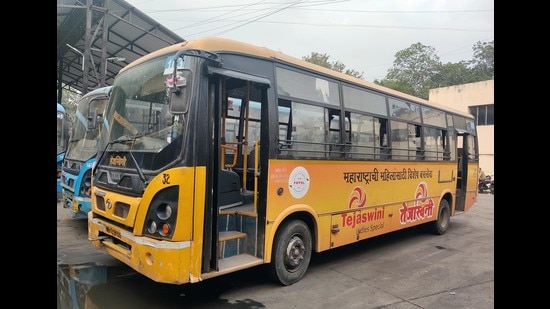 As per the information now shared by PMPML officials, special buses for women will start on 19 routes across Pune and Pimpri-Chinchwad from Monday. The buses will run during morning- and evening- peak hours only. As of now, there are reserved seats for women in the first four rows of all buses. However, it has been noticed that during rush hour, there is no space on the buses for women to sit which often leads to quarrels between male and female passengers. This is why there has been growing demand both from female passengers and some organisations to start special buses for women, and PMPML chairman and managing director (CMD) Omprakash Bakoria has now given approval to the proposal.
Manisha Deshpande, a resident of Padmavati who works in a bank at Shivajinagar and commutes by public transport, said, "It's a good thing that the PMPML is resuming the women-only bus service given that the number of female passengers is high. During peak hours, it becomes difficult for women to board the bus and find a place to sit. If there are women-only buses, commuters like us will be further encouraged to board them."
Dattatray Zende, PMPML traffic manager said, "This special women service will begin on Monday and buses will ply on 19 routes. Women conductors have been given duty on these buses. The bus operations will be during morning and evening rush hours and as per the response of commuters, the number of buses will be increased. Our appeal to women passengers is to get benefit of this bus service from now."
Jugal Rathi, president, PMPML Pravasi Manch, said, "We would always appreciate that a special and dedicated bus service is starting for female passengers during rush hour. But looking at the PMPML's past experience, the major issue is with the planning and actual implementation of any new service after it is started. Earlier too, the bus service was started exclusively for women but got discontinued due to poor planning and implementation. At the time, commuters were blamed citing poor response. Another important thing which needs to be done is creating awareness and publicity regarding these new services amongst passengers through various modes. Only publishing a press note in newspapers is not enough."
In March 2018, the then PMPML chairman and managing director (CMD) Nayana Gunde had launched Tejaswini, a women-only bus service in the city on eight routes. The initiative had begun with 30 buses on eight routes. The blue buses with flowers and a slightly compressed front as compared to regular buses, were seen on city roads with Tejaswini written in Marathi on the front. While the service initially drew a good response, later, the buses were seen plying without female passengers which forced the PMPML to shut it down.