Need transparency in police administration: Fadnavis
Jan 14, 2023 10:30 PM IST
Fadnavis instructed police officers at the annual senior police officials crime meeting to maintain transparency in police administration
Devendra Fadnavis, the Maharashtra home minister, informed senior police officials on Saturday that the government had maintained transparency in recent police officer transfers and postings. He now expects the same openness from them.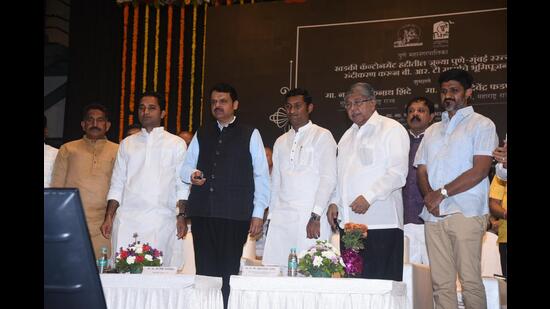 Fadnavis instructed police officers at the annual senior police officials crime meeting to maintain transparency in police administration.
"The Maharashtra Police is a reputable police force, but recently some people attempted to stigmatise it. We'll have to work hard again to get it back."
On Saturday, the Deputy Chief Minister (DCM) was in Pune for the annual meeting of the Centre for Policy Research, Pashan Road. He had conducted a review of crime situations in 2022, focusing on body offences, property offences, crime against women, and crime against children. He had also given instructions on how to increase the conviction rate and discussed various steps to do so.
Given the state's growing drug problem, Fadnavis directed that a special anti-drug campaign be launched, as well as a detailed strategy for dealing with it.
"As far as law-and-order related challenges are concerned, there are specific challenges such as agitations, communal tensions, religious tensions," he said before police.
"We must concentrate on how to reduce it. I have directed police officers to investigate these allegations."
Concerning the growing number of cybercrime cases. The home minister stated that simply increasing the number of police stations is not the solution to cybercrime cases.
"They are also developing a robust platform. In fact, the conviction rate in cybercrime cases is low. There are numerous reasons for this. However, one of the reasons is our fundamental law. Recently, union ministers convened for a conference at which we proposed specific changes to central law."