'Save water and earn money': PSPCL launches voluntary scheme for farmers
Jun 13, 2018 09:37 AM IST
Farmers to get ₹4 for each unit saved in use of electricity-based tubewells; to be credited directly into bank account.
With the groundwater depleting fast in the state, Punjab State Power Corporation Limited (PSPCL) has come up with a new scheme of direct benefit transfer for electricity to agricultural consumers. Under the scheme "Paani Bacho, Paise Kamao" (save water, earn money) farmers will get monetary benefit for less use of tubewell to pull water out of the ground. Farmers will get ₹4 as direct benefit for each unit saved.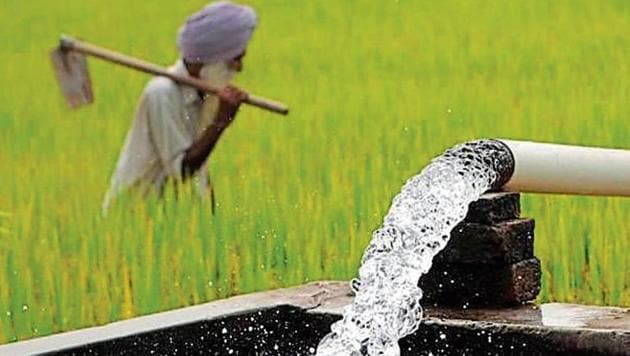 Seen as a double bonanza, farmers will earn money for power which the Punjab government gives them free of cost.
Stay tuned with breaking news on HT Channel on Facebook.
Join Now
A brainchild of PSPCL chairman-cum-managing director (CMD) Baldev Singh Sran, it will be a voluntary disclosure scheme will not be forced on consumers.
Giving example, saran said if the supply limit of a farmer is 1,000 units per month — according to the BHP (brake horsepower) capacity of the submersible pump — and the consumption is 800 units, ₹800 ( ₹4 per unit) will be directly credited into the beneficiaries bank account. He said if the consumption exceeds the limit, farmers will not liable to pay any charges.
"We have surplus electricity, but not surplus water. This is what I am telling farmers. The idea was floated to encourage farmers to save water and the government has approved it," said Sran.
A total of 110 of 149 blocks in Punjab are in the dark zone, where the groundwater is overexploited.
In the first phase six pilot feeders in Fatehgarh Sahib, Jalandhar and Hoshiarpur districts have been selected for the scheme, said Saran, adding that meters will be installed at tubewells of farmers who adopt this scheme to keep a record of the subsidy. He also clarified that bills will not be issued to the farmers.
Farmers of six feeders will be supplied electricity only during the day and if more than 80% of consumers on these feeders adopt the scheme, they will get additional supply of two hours, Saran said.
He also appealed the farmers to save Punjab from water crisis by adopting the scheme. "Farmers who adopt the scheme will get priority in various agricultural schemes launched by the government," he said.