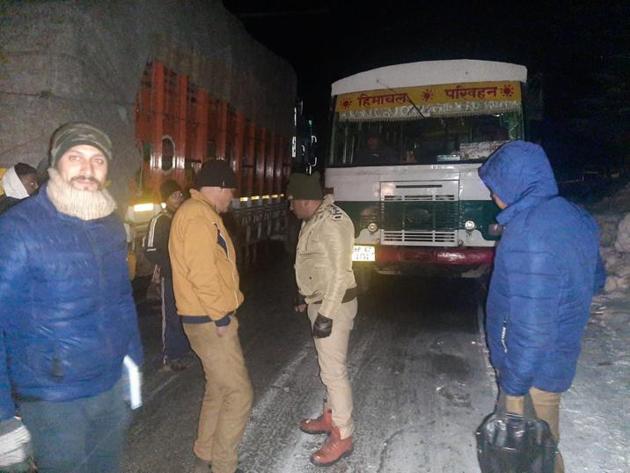 Snow blocks Hindustan-Tibet road; 300 stranded passengers rescued from Kufri
State meteorological department director Manmohan Singh says the latest spell of snow and rain is due to a fresh western disturbance. The weather will clear up from Wednesday
Hindustan Times, Chandigarh | By Navneet Rathore
UPDATED ON JAN 28, 2020 11:21 PM IST
Fresh snowfall blocked the strategic Hindustan-Tibet road that connects Kaurik along the China border in Kinnaur district to the rest of Himachal Pradesh, while more than 300 passengers were rescued in Kufri near Shimla, police said on Tuesday.
Soon after it started snowing at Kufri around 6pm on Monday, vehicles got stranded as the roads became slippery in the tourist town and in the Chini Bangla area. The Dhalli station house officer reached Kufri along with his team to rescue the passengers.
Shimla superintendent of police Omapati Jamwal said, "In another operation, three Himachal Road Transport Corporation (HRTC) buses, three trucks and 10 smaller vehicles coming from Theog got stranded at Kufri. Seventy passengers in the three buses were evacuated in police vehicles and brought to Hassan Valley. The rescue operation ended past midnight."
Shimla deputy commissioner Amit Kashyap said "Atleast 69 passengers travelling in three Himachal Road Transport Corporation (HRTC) buses were stuck amid heavy snowfall near Kufri on Monday night. Passengers were rescued with the collective efforts of the sub-divisional magistrate (rural), naib tehsildar (rural), SHO (Dhalli), and public works department officials."
"It's snowing heavily in the upper parts of Shimla. Three bulldozers and four JCBs have been deployed to clear the Dhalli-Fagu road of snow. People are advised to avoid travelling to the higher reaches and check the status before venturing out. In case of an emergency, call 1077, " said Kashyap adding, "Tourists have been advised to take blankets to stay warm in case they are stranded and also bring bottled-water and warm beverages to avoid dehydration. In case of emergency, people can call the district disaster management cell at 0177-2800880, 2800881, 2800882 and 2800883."
MERCURY DIPS ACROSS STATE
State meteorological department director Manmohan Singh said that the latest spell of snow and rain was due to a fresh western disturbance. "The weather will be clear from Wednesday," he said.
Keylong in Lahaul-Spiti district was the coldest place in the state as it recorded a low of -9.2 degrees Celsius. Kalpa in Kinnaur shivered at -5.2 degrees and got 2cm of snow.
Kharapathar in Shimla district got 7.6cm of snowfall, while light to moderate snowfall occurred at Narkanda, Baghi, Khadrala, Sungri and Tikkar. Shimla town got moderate rainfall and recorded a low of 1.9 degrees Celsius, while Kufri, 14km away, got 5cm of snowfall and recorded a minimum of -1.9 degrees Celsius.
The minimum temperatures in Manali, Dharamshala and Dalhousie were -0.8, 4.2 and -0.8 degree Celsius, respectively.
Solan was cold at 4 degrees, while the minimum temperatures in Bilaspur and Hamirpur were 10 and 10.2 degrees, respectively.
Kasauli in Solan district got 20.5mm of rainfall, while Jhandutta in Bilaspur district received 15mm of rain and Sangrah in Sirmaur district received 7mm of rain.
Mandi was the warmest in the state with a maximum temperature of 19.2 degrees Celsius.
Routes to avoid
Main roads are open in Shimla town, though the state capital experienced heavy snowfall. Five JCBs, two robots and one truck have been deployed to ensure they remain open.
The road to Kufri was blocked at the time of filing this report and work was in progress on the Dhalli- Fagu stretch. Three bulldozers and JCBs each have been have been deployed to clear the road to Kufri.The Fagu-Theog road was also blocked JCBs have been deployed to clear the road.
The Chopal-Shimla road was blocked and four link roads were blocked in Chopal sub-division. Four JCBs have been deployed for road clearance.The route to Khadapathar was also blocked while seven link roads were blocked in Rohru .
In Rampur sub-division, the main roads remained open while two link roads were blocked. The road to Narkanda was also blocked along with five links roads at the time of filing this report. One JCB and two bulldozers have been deployed for road clearance.
All main roads and four link roads have been blocked in the Dodra Kawar sub-division.
Power and water supply
Power supply has been regular in Shimla (Urban), Shimla (Rural), Kumarsain, and Theog , Rohru, Rampur Bushahr and Kumarsain. In Chopal sub-division, as many as 10 DTRs were down at Kupvi and six have been down in the Dodra Kawar sub-division.
Water supply remained normal throughout the district and there is an adequate stock of essential commodities.
Close