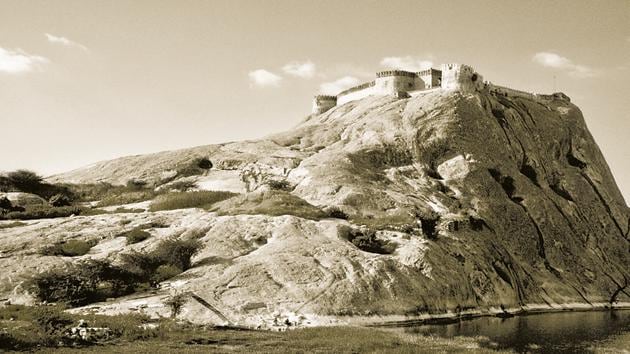 An enjoyable route to rediscover India, writes Ramachandra Guha
This column has two aims: first, to evoke aspects of Keithahn's enduring legacy; second, to bring home to those who live by slogans and on social media that altogether the most exciting and enjoyable way to be Indian is to hit the road and get to know India
UPDATED ON NOV 18, 2018 02:47 PM IST
On the first Sunday of November, I left my home in Bengaluru and drove off towards Madurai. On this weekly holiday, the road to Electronic City was less crowded than usual. Once we passed Hosur, the landscape became interesting, with palm trees and fields giving way to hills and forests. I admired, as always on this road, the magnificent fort overlooking Krishnagiri town. I looked wistfully at the fort, and thought of making a detour to see it properly, but on checking Google found it was closed on the day.
The last time I had driven through these parts, the Kaveri was bone dry, with plastic bags disfiguring its bed. Now, on crossing the river after Namakkal, I was happy to see it had lots of water. The sight of a river in full flow is uplifting for the soul of the city dweller, while of course of more than just spiritual advantage for the peasants, artisans, and fisherfolk who dwell on its banks.
I soaked in the landscape with pleasure. But, truth be told, I was not in rural Tamil Nadu as a tourist. I was in search of the traces of an American Gandhian named RR (Dick) Keithahn, who had lived in the region from the 1930s to the 1980s. Keithahn came originally as a missionary; however, he soon converted to India and to Indian ways. Although remaining a Christian in his personal faith, his focus was not on claiming the pagan for the Church but on promoting rural development and social peace.
Keithahn's closest Indian colleague was a remarkable activist named Sankaralingam Jagannathan (sometimes spelt as Jegannathan). An associate of Vinoba Bhave and of Jayaprakash Narayan's, Jagannathan spent his life fighting, non-violently, for the rights of landless labourers and small peasants. With him in his journey was his wife, Krishnammal. Jagannathan died some years ago, but Krishnammal is entirely alert at 92, living near Chinglepet, still a source of inspiration for those working for farmers' rights.
My contacts in the Madurai region were courtesy Bhoomi, the son of the Jagannathans, who works as a psychiatrist in post-civil war Cambodia. Dr Bhoomi had asked me to meet two people in particular. One was Dr G Pankajam, a former vice chancellor of the Gandhigram Rural Institute. Gandhigram was established by Dr TS Soudaram, the daughter of a wealthy industrialist who became a doctor and devoted her life to the poor. Assisting her in building this rural institute was her husband G Ramachandran — a follower of Gandhi and of Tagore — and Dick Keithahn.
In 1947, when it was founded, Gandhigram would have been rocky and barren. Now, with the trees planted at its birth having grown tall, it is green and pleasant. Dr Pankajam and I spoke in a tiled office, built on the human scale, and surrounded by neem trees. She was herself a child of the campus, the daughter of its agricultural superintendent, who had gone on to do a PhD in Nutrition and to head the Institute herself. Her first memory of Keithahn was of him carrying buckets from the well to water the saplings.
The other person I met via Dr Bhoomi was in Madurai. This was KM Natarajan, who joined the Sarvodaya movement in 1950 at the age of 18, and has devoted his entire life to it. He, like Dr Pankajam, had vivid recollections of Keithahn; like her again, he exuded grace, courtesy, and a quiet commitment, traits characteristic of the best kind of Gandhian worker. As I made to leave, Natarajanji gave me an unexpected gift: a book of cricketing reminiscences published in 1992 by the Sarvodaya Ilakkai Pannai, surely the only sporting book ever issued under a Gandhian imprint.
Later in the week, I drove from Madurai to Oddanchatram, where a Malayali doctor named AK Tharien had established a Christian Fellowship Hospital (CFH) in 1955. This was on the advice of Dick Keithahn, who had toured this rain-shadow region with Vinoba Bhave, and noticed that it was poor, drought-prone, and with absolutely no doctors at all.
The road to Oddanchatram was pretty and winding, and there was plenty to discover at the destination. Here, my contacts were courtesy Dr Vinu Aram, daughter of another of Keithahn's associates, the late M Aram, who had done admirable work for peace and reconciliation in Nagaland and later served as vice chancellor of the Gandhigram Rural Insitute.
CFH's founder, Dr Tharien, was no longer alive, but his daughter-in-law, Dr Valsa, was working at the hospital, as were an older doctor-couple, the Varkeys, who had joined as far back as 1968. They passed on their own memories of Keithahn, who had spent his declining years in these premises. In his last home I found two suitcases with his papers; which the Varkeys kindly allowed me to take back to Bangalore on loan.
I was then taken of a tour of the hospital itself. It served a wide swathe of the district's population; peasants, workers, and middle-class professionals of all religions (or none), their ailments attended to by a staff of doctors and nurses, working in the selfless spirit of its founders.
For more details of Dick Keithahn's life, the reader will have to wait for a book I hope one day to write on foreigners who became, as it were, mentally fully Indian. This column has two aims: first, to evoke aspects of Keithahn's enduring legacy; second, to bring home to those who live by slogans and on social media that altogether the most exciting and enjoyable way to be Indian is to hit the road and get to know India.
Ramachandra Guha is the author of Gandhi: The Years That Changed The World.
The views expressed are personal
Close