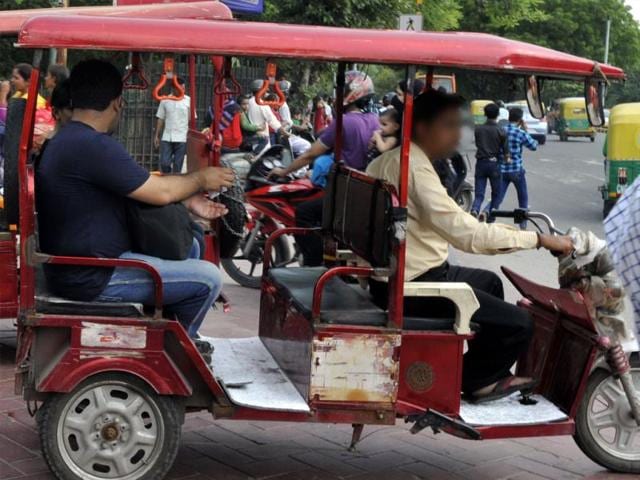 Why ban e-rickshaws before even trying to regulate them
The streets may be looking a little less congested and more orderly but the absence of e-rickshaws has hit lakhs of low-budget travellers hard.
UPDATED ON AUG 04, 2014 02:14 PM IST
Last week, the Delhi High Court stopped electric rickshaws from plying on city roads till there was a law to regulate them. The court had reasons to ban the most untamed mode of transport on Delhi roads. Just a day before the order, a toddler had slipped from his mother's arms into a cauldron of hot sugar syrup when she was hit by an e-rickshaw. The court was told that 29 people had been injured and two killed in accidents involving e-rickshaws in the first six months of 2014.
In the last two years, at least 1.5 lakh cheap battery-powered rickshaws proliferated on Delhi roads. They ran alongside heavy vehicles on arterial roads. Yet, there were no norms to regulate their movement, speed, design, or even ensure that the vehicles were driven by men who had basic road sense.
Now with police crackdown, many have just disappeared from the roads fearing confiscation. The streets may be looking a little less congested and more orderly but the absence of e-rickshaws has hit lakhs of low-budget travellers hard.
Travelling by even public transport is not cheap for a large section of Delhi's working class. One needs to shell out Rs 40 to Rs 50 to cover a distance of three kilometres from home to the nearest metro station on a cycle rickshaw. The e-rickshaw charged Rs 20 for the same distance but took half the time. In Delhi, autos often refuse to go short distances. And even if they do agree, many overcharge. No wonder, the e-rickshaws quickly filled the vacuum of the first and the last-mile connectivity that Delhi and NCR's transport network lacked.
But instead of regulating e-rickshaws and integrating them into the city's organised transport system, our politicians started pandering to the new political constituency of at least two lakh e-rickshaw drivers, owners and dealers. Initially, the government allowed them to proliferate. Since e-rickshaws were exempted from the regulatory mechanism and needed no permits or fitness certificates, thousands of migrant workers found easy and instant employment.
The then chief minister Sheila Dikshit had assured the e-rickshaw pliers a trouble-free run. Soon, the Congress was pasting election posters on the rear of these rickshaws. Then it was the Aam Aadmi Party's turn to build its own support base in this constituency. In June this year, the BJP pulled off a political coup when the Union transport minister Nitin Gadkari declared that e-rickshaws would be out of the ambit of the Motors Vehicles Act.
But this move failed to address the concerns of safety and enforcement. Pulling it out of the ambit of Motor Vehicles Act meant the e-rickshaw drivers did not have to undergo any training in driving and road safety rules. The traffic police and transport department couldn't insist that the drivers get a driving licence or a public service badge, which all other motorised public carrier drivers must have. This also meant that the victims of e-rickshaw accidents would not get compensation as mandated under the law.
Under the new Deen Dayal e-rickshaw scheme, the duties of regulations, if any, were to be carried out by the municipal corporations. But municipal officials have neither the expertise nor the wherewithal to handle the road safety aspect. Even the green credentials of these battery vehicles are being questioned by experts. The batteries need electricity to recharge and cases of e-rickshaw drivers stealing from poles, parking lots and public places abound.
But having allowed them to run for two years and fill a critical gap in Delhi's public transport system, e-rickshaws can't be wished away. The court's ultimatum is an opportunity to make amends. We need a mechanism that necessitates registration of e-rickshaws, insurance cover, licence for drivers, basic fitness of the vehicle, speed limits, area of operation, designated halting stations and charging points.
Close