Why retrieved antiquities should be sent back to place of origin
Nov 16, 2016 07:57 AM IST
It is not enough to end the plunder of our antiquities. We need to let our gods return home. The only sensible way to prevent future theft is to document them carefully in a publicly accessible National Antiquities Register
The industrial scale plunder of Indian antiquities over the three decades is shocking to say the least. Since 1980, around 20,000 idols, sculptures and other antiquities have been stolen and sold in foreign countries. Their market value is estimated at $10 billion although, in cultural terms, many of the pieces are priceless. This excludes those items looted during the colonial era and in the decades immediately after independence.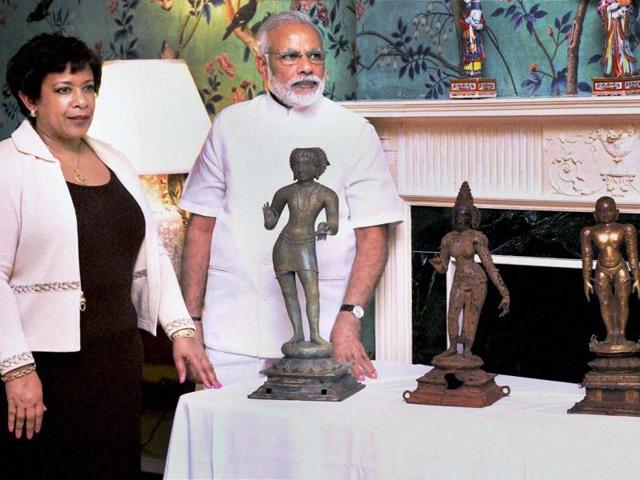 It is important to recognise that the systematic plunder of our antiquities is not the work of small-time thieves acting independently but part of a sophisticated international mafia that includes criminal gangs, corrupt government officials, well-known art experts, and auction houses. These are often the same global networks used in recent years by the Islamic State (IS) to sell artifacts stolen from sites in Syria and Iraq.
Note that items are systematically identified and targeted. They were often taken from iconic, protected monuments such as the Jain temples on Mount Abu, and visitors will be shocked to know that they are frequently shown modern replicas.
Read: How Indian sleuths tracked 2000-year old artifacts in US
Unfortunately, there was almost no effort till recently to stop the plunder. Not a single artifact was brought back between 2000 and 2012. The situation has since improved a bit with the Indian police, particularly Tamil Nadu's Idol Wing, arresting a few kingpins. The role of the trade in funding the IS has made foreign governments more vigilant. Authorities have also been helped by a network of art history enthusiasts led by Singapore-based Vijay Kumar who have tracked down several pieces in galleries and museums around the world.
As a result, around 20 pieces have been retrieved from abroad in the last two years. Another 2,900 seized items are currently lying with United States authorities alone. Hundreds more have been identified in Switzerland and Britain. However, this is barely a drop in the ocean and the flow of stolen items, on balance, is still outward. Repatriation is often hampered by the slow pace at which paperwork is processed by the Indian bureaucracy.
Read: India's museums need more love from its citizens, government
Even as criminal investigations are expanded, there is growing debate about what the authorities should do with the antiquities that have been retrieved? For some, it is obvious that the pieces should be given back to the individuals or institutions from whom they were stolen. However, there are others who feel that the pieces should be kept under the custody of the government and the best pieces should be displayed in museums.
Having considered the matter from different angles, I have concluded that the artifacts should be sent back to their place of origin unless there is an overriding reason for not doing so. First of all, there is a simple principle that applies to all stolen goods. Whether it is a car or a piece of jewellery, the first claim remains with the original owner. No one else, including the government, has a natural claim. This should apply to antiquities as well. Expropriation by the State is not justice.
In pics: From bronze Ganesh to Bahubali, US returns stolen artefacts to India
Second, it is not obvious that the government will prove to be a more responsible custodian. Indeed, many pieces have been stolen from archaeological sites, monuments, and other sites managed by the government. For instance, crores of rupees worth of Vakataka-era coins were stolen from Nagpur University. Even the report on the theft went missing till it was finally traced in April this year. Indeed, it has been alleged that the slow pace of repatriation paperwork is partly due to the fact that government agencies do not want to acknowledge that certain pieces were stolen from under their noses.
Third, the experience is that retrieved antiquities are rarely displayed and end up in a warehouse. Indian museums are in a poor state and unable to exhibit even their existing collections. The famous Pathur Nataraja, for instance, was retrieved from Britain in 1991 but has not been seen since. Such an approach serves no purpose. Art history lovers have no access to the artifacts even as there is continued risk that the pieces will be stolen again and/or replaced with replicas.
Read: India wants UK to return Kohinoor, other artifacts
Finally, one needs to recognise that many of the items, particularly the temple idols, are part of a living tradition. Their creators did not see them as isolated pieces of art but as part of a broader cultural ecosystem. This is different from how we treat ancient Greek or Roman statues that were part of a dead culture. In contrast, returning temple idols to their place origin is important for preserving the associated culture and tradition. In fact, the real beauty and meaning of these idols are only apparent when they are seen in this context.
It is not enough to end the plunder of our antiquities. We need to let our gods return home. The only sensible way to prevent future theft is to document them carefully in a publicly accessible National Antiquities Register. A properly documented artifact is worth little in the international black market and consequently much less likely to be stolen.
Sanjeev Sanyal is the author of The Ocean of Churn: How the Indian Ocean shaped Human History
The views are personal