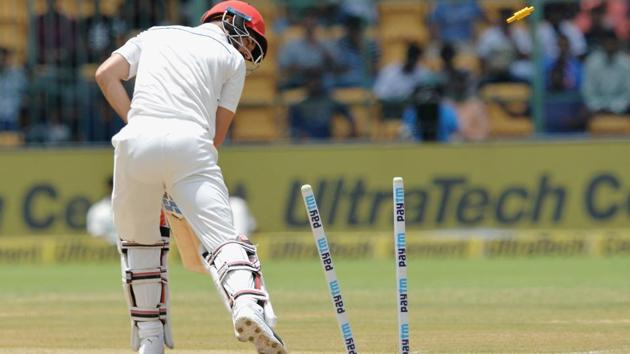 Afghanistan learnt a lot from heavy loss against India, says coach Phil Simmons
Afghanistan cricket team coach Phil Simmons said that the inaugural Test match against India was a learning experience for his side despite suffering a heavy loss against the hosts.
UPDATED ON JUN 15, 2018 08:30 PM IST
After a crushing defeat by an innings and 262 runs, Afghanistan coach Phil Simmons said that there is an air of disappointment at the way the team lost and he believes this side has the capability to bridge the gap. He said the team hasn't discussed the result as of yet but will pretty soon dissect the weakness and start work on them. (HIGHLIGHTS)
"Well nothing has been said yet but we will have our meeting in a little while. I think there is an air of disappointment but not at losing but the way we played today. We can put first two hours down to nervousness, yesterday, and then we showed what we are capable of. But today I don't know what the answer is to that performance," Simmons said. (SCORECARD)
Afghanistan were bowled out for 109 and 103, twice in each sessions to cap a nightmare on debut. The only time they looked a bit competitive was in the last session on the first day when both Rashid Khan and Mujeeb ur Rahman troubled the Indian batsmen.
"I blame 30 % on the occasion and but the blame is a lot more on the naivety of what the Test cricket is about. You can play as much 4-day cricket as possible but when you get upstairs to the big league and especially, against the number 1 team in the world, it shows and today it showed in a big way," he said.
Simmons said one way to bridge that gap is to play a lot more against the A teams of big countries maybe India and Bangladesh adding that had the match been played against one of the lower placed teams in Test cricket it might have been more competitive.
READ | India vs Afghanistan: Two-day win shows chasm between the sides
"Yes, it could have been more competitive but we wouldn't have learned as much as we learnt in this game. Because when you play against the best, you know how much work you have to do to get where they are. Take away from this game is that players can now see and it's just not me telling them how Test cricket is at the top," he said.
As batsmen foolishly went for runs and tried and perished playing big shots, only Mohammad Nabi (24) in first innings and Hashmatullah Shahidi (36*) in the second innings showed the will to fight and stay in the middle. Simmons said he thinks his team can overcome this steep learning curve but it's not going to be easy.
"First it's a mountain to climb. I do believe they want to succeed and want to be good at it. They work hard and now we know we have to work five times harder. So I believe that they will get there," the coach said.
Close