Ashwin goes past Kapil Dev's special India Test bowling mark
Published on Mar 06, 2022 10:04 PM IST
The off-spinner faced resistance from Sri Lanka batters in phases but he finally got the past former skipper's once record 434, finishing on 436.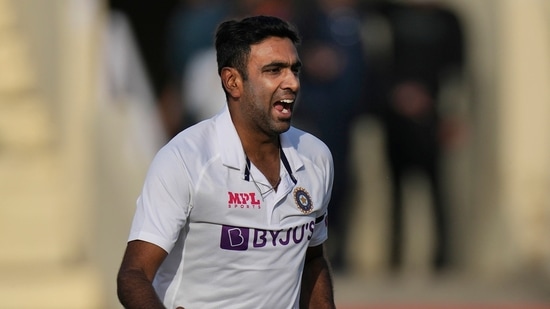 For a while it seemed Ravichandran Ashwin had been halted in his tracks. It's a near-impossible feat against him, that too in India. But for 22 overs on Sunday, he didn't get any breakthrough as Ravindra Jadeja ran away with the spoils to draw the shutters on Sri Lanka's first innings. The next innings, Ashwin got the new ball. Nine balls later, wicket No 433. Ashwin to Lahiru Thirumanne; off-spinner to left-hand bat, the angles are always treacherous. And Ashwin squeezed it the way only he can, ripping an off-break that kissed the outside edge.
Next wicket was magic purely because of the set up. Sending down off-break after off-break—some turning sharply, some not so much, one swept past square-leg for four—Ashwin finally got one to deviate just enough to induce a poke by Pathum Nissanka. So faint was the nick that only wicket-keeper Rishabh Pant was convinced, prompting skipper Rohit Sharma to seek a review. The Snicko confirmed a feather edge and Ashwin got to 434 Test wickets.
It was another wait, this time for more than 28 overs. Not ready to concede so easily, Angelo Mathews and Charith Asalanka were willing to throw the kitchen sink at India. Mathews hammered him down the ground for a boundary, followed by a huge six over mid-on. India had the runs and the time to set it up just right. So Ashwin wasn't dissuaded from tossing up the ball. He refocused on Asalanka, another left-hander. Tossed up full and right on the stumps, Ashwin forced Asalanka to inside edge his forward defence. Next ball was another traditional off-break—a nicely flighted, looping delivery, dipping and turning to lure Asalanka into a stretched out defence. Another edge, but this time it ricocheted off Pant's pads and the ball ballooned to Virat Kohli at first slip. There was a fumble, but Kohli wasn't spilling Ashwin's wicket No 435.
He finished with one more, getting last man Lahiru Kumara caught by Mohammed Shami to get to 436.
At 35, Ashwin has gone past Kapil Dev's once Indian and world record in only his 85th Test. Ashwin's strike rate is 52.5, less than that of Indian record holder Anil Kumble (619 @ 65.9), Harbhajan Singh (68.5), and even Ravindra Jadeja (60.1) Ashwin could well have breezed past this landmark much earlier had he not been injured or strangely benched when India clearly needed more bite in their spin attack. In Ashwin and Jadeja, India's spin attack at home has been sorted for almost a decade now. It's only when India travel abroad that selection seems to hurt Ashwin more. Think England in 2021. Or South Africa before that, even New Zealand where he has featured in just one Test in a career of more than 10 years.
Rohit Sharma didn't even want to dwell on it. "Really, can't tell you anything about his overseas place and why he doesn't find it," he said after India won the first Test against Sri Lanka in Mohali by an innings and 222 runs.
The England tour last year was considered a vital miss but after the South Africa tour didn't go too well for him, Ashwin is learning and adapting. "I had four weeks off. I wanted to contribute with the bat, stay positive, take one ball at a time," Ashwin said. "I usually get ahead of myself with the bat sometimes, I hope to contribute now. The surface was pretty good. It was not easy to get batsmen out on the defensive."
Irrespective of whether Ashwin goes on to play 100 Tests or break Kumble's record, Sharma feels he is a great of the game. "An all-time great in my eyes," he said. "He has been playing for so many years and performed for the country. So many match-winning performances—people might have different points of views but from where I see, he is an all-time great for me.
"It's a big thing in his cricketing career to achieve that feat (breaking Dev's record). When you grow up wanting to play Test cricket, you don't dream about these things and so to surpass that is a big achievement.
"I have been watching Ashwin for a long time now. Every time he seems to get better and better. Ashwin is one player whose confidence is always in his ability, in what he wants to achieve, and for the team as well. He played a crucial innings and got a big partnership with Jadeja too."
Personalise your news feed. Follow trending topics