'Don't look at venues. If IND have to win vs AUS...': Ex-chief selector's message of Rohit, Dravid on spin combination
Feb 01, 2023 07:20 AM IST
In a message to Rohit and Dravid, a former chief selector has advised the two to not look at conditions to pick spinners as he revealed his ideal combination.
One of the biggest selection headache for India captain Rohit Sharma and head coach Rahul Dravid would be picking the right combination of spinners for the impending and much-anticipated Border-Gavaskar series against Australia at home which begins in Nagpur from February 9 onwards. India have four options in hand - R Ashwin, Ravindra Jadeja, Axar Patel and Kuldeep Yadv. In a message to Rohit and Dravid, former chief selector Sunil Joshi has advised the two to not look at conditions to pick spinners as he revealed his ideal combination.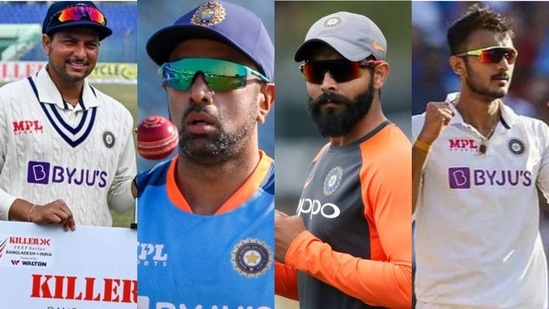 According to the pecking order, Ashwin and Jadeja are obvious choices, given Jadeja is available for the series, who selection is subject to fitness. He did prove his fitness having played Saurashtra's final Raji Trophy league game against Tamil Nadu where he picked seven wickets in the second innings and bowled 41.1 overs in the match.
ALSO READ: 'If he swings the white ball so much, just imagine...': Gavaskar's incredible 'just like Bumrah' remark for India pacer
Axar comes in next, and also stands as Jadeja's direct replacement in the all-rounder fails to pass the fitness test, while Kuldeep stands fourth. But Joshi, in conversation with ESPNCricinfo, feels that India should pick Kuldeep in the playing XI.
"One, because of his form - he's been good in picking wickets. As a former cricketer, I look more closely at the way he is taking wickets: a spinner getting [the batter] out through the gate bowled, caught at slip, stumped getting to the pitch of the ball, miscuing the ball and getting caught at mid-off, mid-on. These are the areas of dismissal that a spinner would love to take," he said.
In the last five years, Kuldeep has played only one Test match at home, in the Chennai tie against England two years back, where he had picked two wickets in 6.2 overs in the second innings. His most recent heroics was against Bangladesh in the Chattogram Test where he had picked a record five-wicket in a winning cause, while also showing his class through a valiant knock down the order.
Joshi feels that India should stop looking at conditions and pick Kuldeep on the XI, backing the leg-spinner to play a "major part" in the series.
"If Ashwin is our first option, and if Jadeja is not available, then it should Kuldeep and Axar. If Jaddu is available and they are playing three spinners, Kuldeep should play. Don't look at the venues or whether our spinners will do well or not at them. Look at the way Kuldeep has picked up wickets. In whatever series he has played recently, whether it is red- or white-ball, his dismissals are in the range of [being caught] within the 30-yard circle. That is a great thing for a bowler because it shows you have been very consistent with your line and length. If India have to win against Australia, Kuldeep will play a major part," he said.