England vs New Zealand, World Cup 2019 Highlights: Jonny Bairstow, Mark Wood guide ENG to victory
Highlights: England booked their place in the ICC World Cup 2019 semi-finals with a 119-run demolition of New Zealand at Chester-le-Street. Eoin Morgan's side scored 305-8 in their 50 overs as Jonny Bairstow top-scored with 106 and Jason Roy hit 60. The tournament hosts then bowled out New Zealand for 186 to guarantee a top-four finish in the 10-team group stage. England, who have never won the competition, are into the World Cup semi-finals for the first time since 1992.
England vs New Zealand, Highlights: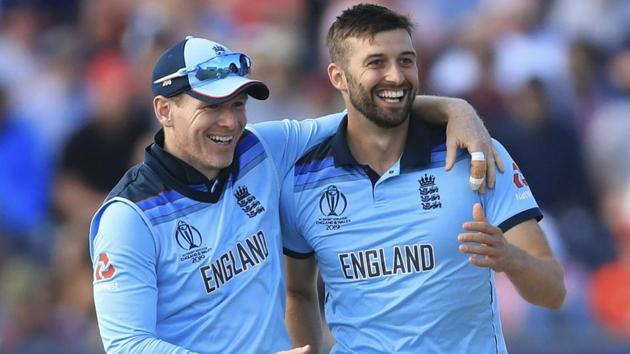 Updated on Jul 04, 2019 10:47 AM IST
23:00 hrs IST
Stat Attack: England into semis
The last time England played the #CWC semi-final at home, was against India at Old Trafford in 1983 (lost by 6 wickets).
It seems in #CWC2019 the same two teams will be clashing in the semis.#CWC2019#EngvNZ #NZvEng

— Mohandas Menon (@mohanstatsman) July 3, 2019
22:48 hrs IST
ENG victorious
Jos Buttler pulls off a quick stumping and that is the end of the encounter. A brilliant win by England as they thump New Zealand by 119 runs. England entered the World Cup semifinals for the first time since the 1992 edition thanks to Jonny Bairstow, who smashed 106 off 99 balls to become the first Englishman to score back-to-back hundreds in a World Cup.
22:38 hrs IST
Henry out
A straight one from Mark Wood and Matt Henry was castled for 7. Henry tried to create some room for himself but all he managed was to get his middle stump rattled. NZ 181/9
22:26 hrs IST
Mark Wood shines
Mark Wood's bowling figures of 2/30 are his best bowling figures against NZ in ODIs.
22:23 hrs IST
Santner out
Mitchell Santner shuffles towards the off-stump and is caught LBW by Mark Wood. Wickets are falling fast at the moment and England are now 2 wickets away from a much deserved victory! NZ 169/8
22:17 hrs IST
Latham departs
Tom Latham's hard-fought innings comes to an end for 57 as he is caught behind off the bowling of Liam Plunkett. It was a soft touch of the glove and the ball looped into Jos Buttler's gloves behind the stumps. NZ 165/7
22:09 hrs IST
Fifty for Latham
Tom Latham's fifty:
· 1st No. 5 batsman for New Zealand to score a fifty against England in World Cup.
· 12th No. 5 batsman to score a fifty vs ENG in WC.
21:58 hrs IST
Latham eyes 50
The two teams are just going through the motions at the moment. The required run rate is above 10 and New Zealand are not even trying to chase it down. The only incentive right now is the fifty of Tom Latham but the personal milestone will not help Kiwis in any way. NZ 147/6
21:40 hrs IST
Poor NZ
This has been a disappointing show from New Zealand who looked in superb form at the start of the ICC World Cup 2019. However, even after the defeats, they can scrape through on run rate but it seems unlikely that they will bother in-form Australia in the semis. NZ 136/6
21:32 hrs IST
Qualification Scenarios
Even a defeat would not spell the end of either team's chances of emerging as one of the top four from the 10-team round-robin phase.
Were England to lose in Chester-le-Street, Pakistan could leapfrog them into the top four with victory over Bangladesh.
Given that they play each other in their final pool match, only one of Bangladesh -- who also still have to face India -- or Pakistan can draw level with New Zealand in the event the Black Caps lose on Wednesday.
And, with both Asian teams well behind on net run-rate, it would take a big New Zealand loss allied to a commanding Pakistan victory or two Bangladesh wins by big margins, to deny the 2015 losing finalists a place in the last four.
21:25 hrs IST
Colin De Grandhomme out
This is just pathetic from New Zealand. The shot selection has been horrible from the Kiwi batsman and Colin De Grandhomme followed suit. He went for the slog through mid-wicket but ended up giving an easy catch to Joe Root. NZ 128/6
21:11 hrs IST
Neesham out
Mark Wood strikes once again! He bowled it just outside off-stump and Jimmy Neesham ended up dragging it onto his sticks via an inside edge. England 123/5
21:00 hrs IST
Partnership Needed
Jimmy Neesham and Tom Latham have steadied the innings and New Zealand are scoring at a brisk rate at the moment. But, they cannot give away their wicket like the batsmen who came before them and only a good partnership here can keep the Kiwis in the game. NZ 108/4
20:47 hrs IST
Stat Attack: Run Outs
This is the 16th time in ODIs and 3rd time in WC that 2 NZ batsmen have been run out in an inning against England.
· The last time this happened in a WC match, was in 1983 at The Oval.
o JV Coney and MD Crowe were run out in that innings.
20:41 hrs IST
Taylor out
Good throw by Adil Rashid and Ross Taylor has literally thrown away his wicket. An unnecessary run attempt and he was not even in the screen when the bails were dislodged. New Zealand 69/4
20:37 hrs IST
Stat Attack: Williamson
Kane Williamson is run out for 27:
· This is the 9th time in ODIs he has been dismissed in this fashion.
· 2nd time vs ENG
o Last time was in 2013 at Hamilton.
20:29 hrs IST
Williamson out
Smallest of margins can decide a game! A slight touch off Mark Wood's fingers and Kane Williamson was found struggling to make his ground on the non-striker's end. The New Zealand skipper was adjudged run out by the third umpire and after 15.1 overs, the Kiwis are 61/3
20:15 hrs IST
Record for Jofra
Most wickets in a WC for England:
17 J ARCHER (2019)
16 I Botham (1992)
14 A Flintoff (2007)
13 V Marks (1983)
13 E Hemmings (1987)
13 M Wood (2019)
20:06 hrs IST
10 overs gone
10 overs gone. New Zealand are 39 for two wickets. It has been most England till now but Ross Taylor has steadied the innings somehow. The next 10 overs will be quite crucial. New Zealand need a partnership badly at this point if they want to chase down this target.
19:56 hrs IST
Ravindra Jadeja
Meanwhile, India all-rounder Ravindra Jadeja has hit back at former cricketer Sanjay Manjrekar after the latter said he is not a fan of 'bits and pieces players' like Jadeja. Full story here.
19:46 hrs IST
Archer strikes
Jofra Archer strikes for England and Martin Guptill's horrible form continues. The opener edged it behind outside leg stump and Jos Buttler pulled off a stunner to hand England a crucial wicket. NZ 15/2
19:37 hrs IST
Stat Attack: Nicholls
Henry Nicholls is dismissed for a duck:
His 3rd golden duck in ODIs.
5 out of the 16 Golden ducks for NZ have been in this World Cup.
19:32 hrs IST
Good over from Archer
Jofra Archer keeps the pressure on the Kiwi batsmen as he bowls a two-run over. England needed early wickets and that is what has happened for England. They are on top of their opponents at the moment.
19:25 hrs IST
Woakes strikes!
Chris Woakes has provided England with the first breakthrough in the first over itself as he gets rid of Henry Nicholls for 0. The southpaw was trapped in front of the wicket and he was adjudged LBW. The batsmen didn't opt for the DRS and replays showed the ball was going over the stumps.
19:15 hrs IST
Chase begins
Chris Woakes has the new ball in hands and he will bowl the first over of the innings. Martin Guptill and Henry Nicholls are opening the innings as they chase 306 to seal a spot in the semis.
18:57 hrs IST
England 305/8
An eventful last over in the match as Liam Plunkett got a quite runs and Tim Southee claimed his first wicket of this World Cup. England finish their innings on 305/8 and it was all thanks to the brilliant knocks by Jonny Bairstow and Jason Roy.
18:44 hrs IST
ENG lose to end on a high
48 overs gone. England are 286/7. This has been a disappointing show by the hosts considering the start they had to the innings. But, they will be looking to end the innings on a high! ENG 295/7
18:34 hrs IST
Wickets tumbling
Eoin Morgan showed some intent with two boundaries and even he did not last long as Matt Henry dismissed him for 42. Another mistimed shot and Mitchell Santner pulled off a challenging catch. ENG 274/7
18:28 hrs IST
Neesham strikes again
Jimmy Neesham strikes again! This is getting quite sad for England as Chris Woakes mistimed his shot completely and Kane Williamson completed another easy catch. England 259/6
18:21 hrs IST
Stat Attack: Stokes
Ben Stokes departs for 11 off 27 balls:
· His SR of 40.74 is his 2nd worst when he has faced a minimum of 25 balls in an innings in ODIs.
o His worst was at Sydney in 2014 against Australia.
§ He had a SR of 38.46 having scored 15 off 39 deliveries.
18:13 hrs IST
Stokes out
11 off 27 balls - Things were not going in Ben Stokes' favour and he ended up giving an easy catch to Matt Henry on the boundary. This has been a disappointing show by the middle order batsmen and England will be really disappointed with their position right now. ENG 248/5
18:04 hrs IST
Powerplay 3
Finally a boundary for Eoin Morgan! It was going quite sluggishly for England and they need to accelerate right now if they want to post a big total. The start was brilliant for the hosts but it is slowly fading away! England 241/4
17:51 hrs IST
Expert Opinion
Morgan slow run rate has caused Buttler's false shot. Stokes should have come in at 5. Moment for New Zealand to get on top. #NZvENG #CWC19

— Brad Hogg (@Brad_Hogg) July 3, 2019
17:43 hrs IST
Buttler out
Another wicket goes down! This is not a good run of play for England! Trent Boult foxed Jos Buttler with a slower delivery and he ended up giving an easy catch to Kane Williamson at mid-off. England 214/4
17:38 hrs IST
Spot of Bother
The run rate has suffered a bit after the dismissal of Jonny Bairstow as both the new batsmen - Eoin Morgan and Jos Buttler - are looking to play cautiously and this is a slow phase of the innings. ENG 214/3
17:30 hrs IST
Bairstow departs
Jonny Bairstow's innings comes to an end on 104 as England are 206/3. It was a straight delivery from Matt Henry and the England opener ended up playing it onto his stumps. However, the danger is far from over as skipper Eoin Morgan is the new batsman for the hosts.
17:19 hrs IST
Root departs
A short pitched delivery from Trent Boult and Joe Root ended up edging it to Tom Latham behind the stumps. Second wicket down for England as the hosts are 194/2.
17:14 hrs IST
Century for Bairstow
Jonny Bairstow's century:
· 2nd in the World Cup.
· 3rd consecutive century vs New Zealand in ODIs.
· 12th ODI century.
· 3rd English batsman to score 2 centuries in the same WC after Pietersen in 2007 and Root in 2019.
Bairstow becomes the first centurion for England against New Zealand after AJ Lamb in 1983 at The Oval.
17:09 hrs IST
Huge feat for Root
Joe Root becomes the first Englishman to score 500 runs in a World Cup edition. It has been a brilliant tournament for the England batsman who has scored two centuries and three fifties till now. ENG 186/1
16:56 hrs IST
Stat Attack: Partnership
Fifty partnership between Bairstow and Root:
· 4th fifty run stand for the 2nd wicket for ENG vs NZ in World Cup.
· Last fifty run stand for the 2nd wicket by an English pair was in 1996 at Ahmedabad.
o GA Hick and AJ Stewart scored 99 runs in that innings.
16:46 hrs IST
Runs Galore
A conventional shot over mid-wicket by Jonny Bairstow followed by a reverse sweep by Joe Root - This just goes to show how comfortable the two batsmen are out in the middle. Mitchell Santner has not received much help from this turf and he has gone for quite a few runs today. England 156/1 after 24 overs.
16:39 hrs IST
Root, Bairstow steady
The loss of Jason Roy has not affected England's run rate one bit as Joe Root and Jonny Bairstow are looking in prime form. Both the batsmen are connecting beautifully with the deliveries and Bairstow slammed both Matt Henry and Mitchell Santner for boundaries in their previous overs. ENG 144/1
16:32 hrs IST
Stat Attack: Jason Roy
This is the first time in World Cup and 4th time in ODIs that both English openers have scored fifties against New Zealand. With Jason Roy's dismissal, England's 123 run stand is now the 5th highest opening wicket partnership against New Zealand in World Cup.
16:23 hrs IST
Roy departs
Neesham has made it happen, he has accounted for Jason Roy here. A rather soft dismissal, the ball did not arrive as Roy tried to drive it on the up, ended up handing an easy catch to short cover. New Zealand needed this wicket, Roy is kicking himself, but he has given his side the start they were looking for.
16:12 hrs IST
50 for Roy, Bairstow
Jonny Bairstow and Jason Roy have skipped to their individual half-centuries. England are cruising at the moment and New Zealand are fumbling around for answers. A massive score is on the cards, can New Zealand pull things back here?
16:05 hrs IST
100 for England
These are ominous signs for England, Jonny Bairstow and Jason Roy have absolutely sprinted away and the 100 is raised. Also, it has to be mentioned here that the pitch is a belter and one which should remain the same for all 100 overs. New Zealand do need to break this stand.
15:54 hrs IST
The pitch looks absolutely flat
There is no seam, there is no spin, and England openers are having an absolute party out there. New Zealand need to string together dots, if wickets are not coming in order to build pressure and buy wickets.
15:42 hrs IST
NZ still searching for the 1st wicket
This has been a great start by England, they are responding brilliantly to the pressure. Off the blocks quickly and now setting a superb partnership. Captain Kane has to come up with something to break this partnership. Intensity from the openers.
15:25 hrs IST
Bairstow on the charge
After punishing India in the previous match, Jonny Bairstow has hit the ground running here, he has already skipped to 27 runs as England have raced off the blocks. New Zealand need to pull things back here, they cannot lose grip so early in the match.
15:16 hrs IST
Good start by the openers
They were rollicking in the previous match against India and now, Jason Roy and Jonny Bairstow have started off superbly in this particular match. New Zealand have to be careful, else this can go south very quickly. They need to get into this England middle order.
14:59 hrs IST
Out walk the players
The National Anthems have been sung, this is such a crucial match for both sides, it will be all about the nerves. Jason Roy and Jonny Bairstow march out to open. New Zealand players have taken the field, Mitchell Santner with the new ball.
14:38 hrs IST
Playing XIs
New Zealand (Playing XI): Martin Guptill, Henry Nicholls, Kane Williamson(c), Ross Taylor, Tom Latham(w), Colin de Grandhomme, James Neesham, Mitchell Santner, Tim Southee, Matt Henry, Trent Boult
England (Playing XI): Jason Roy, Jonny Bairstow, Joe Root, Eoin Morgan(c), Ben Stokes, Jos Buttler(w), Chris Woakes, Liam Plunkett, Jofra Archer, Adil Rashid, Mark Wood
14:37 hrs IST
Kane speaks
We would have had a bat as well, but it's important to do a job," says Williamson. "Ferguson has been outstanding, but a hamstring niggle, hope he recovers quickly." Southee and Matt Henry are in, with Sodhi also sitting out.
14:36 hrs IST
England bat first
"I think the pitch and overheads," [are the decisive factor], says Eoin Morgan. "The pitches have got tougher, slower, lower as the match goes on, and it's a trend that the pitches haven't been as good as the last few years. It's a bit like a quarter-final, we train hard, play hard, today is what it's all about."
14:30 hrs IST
Pitch report
It is a fresh pitch and it looks very good. Nice even covering of grass. It looks pretty firm. Groundsmen reckon this is a better surface than the one used in the last game played here between West Indies and Sri Lanka.
14:19 hrs IST
Blow for New Zealand
Lockie Ferguson is not playing. That is a huge blow for New Zealand and well, for Pakistan as well. He has pulled out with a tight hamstring. So, Tim Southee might finally get a game.
13:44 hrs IST
Player battles
The Kane Williamson-led side have been ordinary in their batting in the last two games and they would desperately hope to improve on that front and make a solid comeback into the tournament. Williamson needs Martin Guptill to fire, much like he did in the 2015 edition, where he had emerged as the leading run-scorer of the tournament.
Here are the top 5 player battles.
13:29 hrs IST
New Zealand predicted XI
New Zealand and England will both be looking to book their spot in the ICC World Cup 2019 semi-finals when they face each other in the group stage encounter at Chester-le-Street on Wednesday.
Here is New Zealand's predicted XI for the match against England.
12:46 hrs IST
England predicted XI
England, who had to face a lot of criticism from all quarters after facing back-to-back defeats against Sri Lanka and Australia, came out with their A-game against India in Birmingham to keep their semifinals hope alive.
They need more of the same against New Zealand. Here is England's predicted XI.
12:17 hrs IST
Kane Williamson - Kiwi captain cool, a study in serenity
The Kiwis will seal a semi-final berth if they beat England on Wednesday, but may not upstage a home team rejuvenated by their win over India unless the ice-cool Kane Williamson steps up again. Teams have been wary of chasing, but the Kiwis won their first three games by bucking the trend. The self-effacing 28-year-old has been pivotal in the wins, but has not let pressure get to his side after the losses to Pakistan and Australia.
Read more about their captain here.
11:54 hrs IST
How important is this match?
All the complex qualification scenario explained. 2 spots remain, 3 teams remain. Boy, this is the World Cup.
Read about all the possible scenarios.
11:34 hrs IST
What are the camps saying?
"It was clear that after the Australia game, there was a huge amount of disappointment in the changing room and the fact that we have been able to turn that around, identify where we are at and identify what we need to do in order to progress to the semis, made things clear about how we want to continue to play, which haven't changed, is important and it's been effective" - Morgan reflects on the last few days.
11:30 hrs IST
England vs New Zealand and a semis berth on the line
New Zealand smashed England back in 2015, England were hurt, they were ousted and they were licking their wounds. And then Eoin Morgan decided to stop cribbing and start acting - 4 years down the line, his side is an ODI force, and yet, 4 years down the line New Zealand stand in the way of a semi-final berth. Before the tournament started, England were supposed to bulldoze opponents and saunter into the finals and even win the tournament, but then, World Cup pressure and all that happened and they now have to win this clash for their fate to be in their own hands. It is not quite a must-win clash for New Zealand, but they too would want to win this one and march into the semis with momentum at their side.
Topics
Close Story