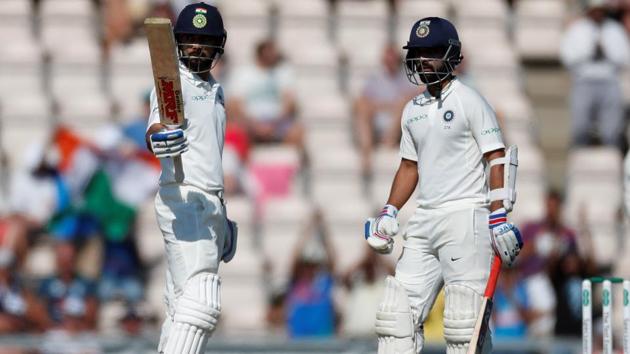 India vs England: Except Kohli, no Indian batsman has improved, says Aakash Chopra
Players, especially the batsmen, tend to get better with age and experience but it hasn't really reflected in this year's overseas performances thus far.
New Delhi | By Aakash Chopra
UPDATED ON SEP 04, 2018 09:54 AM IST
There are two ways of looking at the series loss in England.
One: You could take heart in the fact that India ran England really close in all the Tests except the one at Lord's. India lost all the four tosses and competed on equal terms for the majority of every Test match but failed to close the tight moment that defined the result.
Two: You can look back at the tour of South Africa and draw parallels, and perhaps, learn some valuable lessons. India had their moments there also but just like this tour, they couldn't cross the finish line there. India might not have been outplayed in most of the games, there's no place to hide from the fact that India lost both the series.
While sticking with the first narrative will give hope and keep the flock upbeat, it won't really initiate progress. After all, India drew a Test in South Africa and won a Test in England in 2014 too. Since those were the first tours to these places for most of these players, you could understand the results.
NO. 1 RANKING – SO WHAT?
But on this tour, India travelled as the Number 1 Test side in the ICC Test rankings and the current strength, or the lack of it, of their opponents had presented a realistic possibility of winning a series. That's why it's prudent to spend more time on the second narrative, for that'll put the team on the path of improvement.
ALSO READ: Team India report card - How Virat Kohli and Co. fared in Southampton
Players, especially the batsmen, tend to get better with age and experience but it hasn't really reflected in this year's overseas performances thus far. Kohli is the only batsman who's managed to upgrade his skills significantly, for the rest seemed to have either regressed or stagnated.
In 2014, opening the innings was a problem and unfortunately, it continues to be a problem in 2018. In fact, it's become a bigger worry with Vijay no longer a part of the Indian Test team. Rahul hasn't scored a fifty in the last 12 overseas innings and Dhawan's returns aren't too dissimilar, for he hasn't crossed the fifty run mark in his last 8 overseas innings.
WHAT'S PANDYA'S ROLE?
In 2014, India toyed with Stuart Binny for the seam-bowling all-rounder slot and while Hardik Pandya has done a little better than Binny, the slot is still nowhere close to getting filled properly. Despite his heroics in Nottingham, Pandya's still the fourth seam-bowler and not a batsman who fits into the top six of a Test team.
If there's a quantifiable improvement, it's in the Indian bowling department, for they've dismissed the opposition twice in six out of the seven overseas Tests in 2018. While taking 20 wickets is essential to win Tests, that alone isn't always enough, for India have lost four of the six Tests in which their bowlers took 20 wickets without conceding a mountain of runs.
But even there, there seems to be some room for improvement.
ALSO READ: Virat Kohli continues reign at the top of ICC Test rankings
On this English tour, they managed to remove the English top order without much damage but invariably, the lower order continued to be a thorn in the flesh. They say that removing the tail is an art and, perhaps, that's their next challenge.
(The writer is a former Indian Test batsman and views are personal)
Close