India vs England: Heartbreak for India, Virat Kohli; England win Edgbaston Test by 31 runs
India slumped from 141/6 to 162 all out as Ben Stokes ran through the lower order, returning with figures of 4-40 as England registered a win in the first Test at Edgbaston.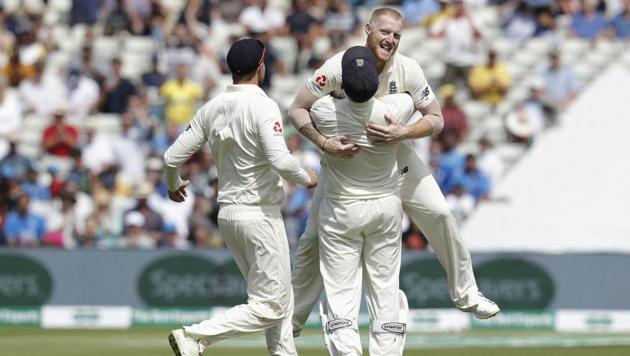 Updated on Aug 04, 2018 08:39 PM IST
It was déjà vu for Virat Kohli. Almost four years ago, after a harrowing time with the bat in England, he took on Australia's bowlers as stand-in skipper in Adelaide. A sensational 141 in the second innings wasn't enough as the rest of the batting caved in and India lost by 48 runs. (IND v ENG Day 4 - As it happened)
The Edgbaston Test, also first of the series, didn't last until lunch on Day 4 but all excited was tightly packed. India had taken the Adelaide game deep into the final day.
Like then, Kohli was heroic with the bat, scoring a personally significant 149 and 51 in the second innings as India chased a tricky, but by no means unattainable, 194 in the quest for what would have ranked as one of India's famous wins.
ALSO READ | Virat Kohli bemoans lack of application from top order batsmen
If pressure got to them in Australia, India's top-order batsmen paid for poor technique and lack of fight against swing bowling as England bowlers wrested the game at their favourite venue.
India have now lost six of seven matches here with no win. England logged their 28th victory.
STOKES STRIKES
All-rounder Ben Stokes turned the game on its head to ensure a 31-run win before lunch on Saturday. The all-rounder was all raw emotion as he celebrated on his knees mid-pitch with Jimmy Anderson rushing in to embrace, after he trapped Virat Kohli leg before with 53 more to get for India. Both teams knew the significance of the wicket.
Going into the day on 110/5, with 84 more to get, Kohli had faced only 17 balls in 48 minutes before his dismissal. Anderson had said overnight that Kohli's wicket was all that mattered, and Stokes, replacing the spearhead, struck third delivery with one that nipped back late to catch Kohli on the front pad.
He sought a review, more in faint hope than conviction, before walking away with shoulders slumped.
ALSO READ | Who said Test cricket is dead, gushes Joe Root after Edgbaston Test win
Stokes' 4/40 was an emotional affair. He will miss the Lord's Test starting on August 9 due to a court hearing in Bristol over his alleged assault outside a bar in that city last year.
England though were toasting the new Stokes, left-handed all-rounder Sam Curran, 20, who took four wickets in the India first innings and hit a 63 in the England second innings when all seemed lost.
KOHLI CHANTS
Like in the South Africa Tests, India's bowlers claimed 20 wickets, only for the batsmen to cave in.
India slumped from 141/6 to 162 all out as Stokes ran through the late order. Leg spinner Adil Rashid trapped Ishant Sharma (11) again, after a review, and India still needed 40 runs.
Indian fans chanting 'Kohli, Kohli' as he reached his 16th Test fifty fell silent and the Barmy Army took over at the head of a large crowd that watched the final act.
England have had a way of finding their way back at Edgbaston, where they pulled off a nail-biting two-run win over Australia in the 2005 Ashes series.
ALSO READ | How Virat Kohli inspired Sam Curran's match-turning half-century
India had the better of batting conditions to start with, and the ball was already 36 overs old. Anderson though raised hopes by having Dinesh Karthik caught low by second slip Dawid Malan – who had dropped three until then – in the first over.
Karthik, on 18 overnight, stood outside the crease like Kohli to negate late swing, but was sucked by the master swing bowler into the front-foot prod. Root threw the ball to Stokes in the 11th over, and it came unhinged for India.
India have not won a series in England since 2007.
Close Story
Personalise your news feed. Follow trending topics