England beat India by 31 runs at Edgbaston - highlights: As it happened
India went down to England in the first Test match of series at Edgbaston by 31 runs and now trail 1-0 in the five match series. Chasing 194 to win, India began the day on 110/5 but had a disastrous start as they lost Dinesh Karthik in the very first over. England all-rounder Ben Stokes took two wickets in an over, including the prize scalp of India captain Virat Kohli for 53 before ending the match when he had Hardik Pandya (31) caught at first slip by Alastair Cook. The series continues with the second Test at Lord's starting on Thursday.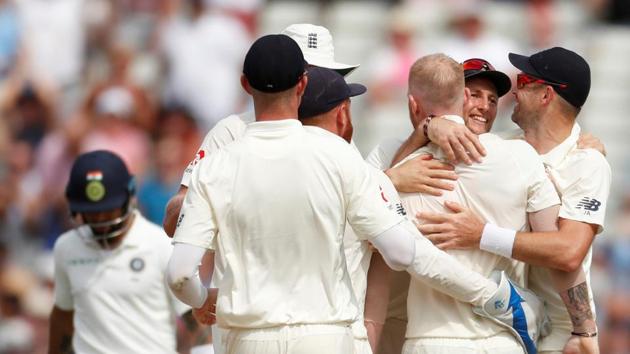 Updated on Aug 05, 2018 09:03 AM IST
17:25 hrs IST
Man of the Match - Sam Curran
Sam Curran has been adjudged man of the match in what was England's 1000th Test match. He says he didn't sleep overnight as all the England players kept thinking about how to get Virat Kohli out
17:18 hrs IST
Virat Kohli: Need to apply ourselves better
Kohli: It was a great game of cricket...glad to be a part of such a match...we made a comeback at one point...a team like England will not make it easy every time....need to apply ourselves better in batting...bowlers did really well in the second innings...look at the positives and build on those....the first innings century is right up there, perhaps next to Adelaide....Test cricket is my favourite format....people watching it should also love it
17:02 hrs IST
'Curran turned it around'
Ben Stokes was the hero for England on the last day as he picked up the wickets of Indian captain Virat Kohli, Hardik Pandya and Mohammed Shami. But in the post match conversation he mentioned the name of young Sam Curran as the man who tilted the balance in England's favour with that belligerent half-century in the second innings which took England out of the dumps.
17:00 hrs IST
Stokes gets Pandya
Ben Stokes gets the final wicket of the match as Hardik Pandya edges one to the first slip and Alastair Cook takes an easy catch. Stokes finishes with 4/40 as India come up short by 31 runs.
16: 51 hrs IST
Umesh survives
Umesh Yadav plays out an entire over of spin from Adil Rashid and India are still breathing. He is then handed the responsibility of facing the last delivery of Ben Stokes' over and he blcks that as well. Pandya needs to do something soon.
16:38 hrs IST
Rashid traps Ishant with a googly
Joe Root's gamble has worked. Ishant Sharma, who was tackling the pacers well, has been trapped in front of the wicket by Adil Rashid with another googly. England need just one more wicket for a remarkable victory.
16:33 hrs IST
Stokes, Pandya verbal duel
Ben Stokes and Hardik Pandya are having a go at each other. This was expected as Stokes is targetting the tailenders with bouncers and Hardik has got into the act. Both exchange a few verbal blows and this makes for great Test match viewing, what a clash this has been.
16:29 hrs IST
Ishant gets boundaries away
Ishant Sharma has given the Indian fans at Edgbaston something to cheer about. He first guides one down to the thirdman fence and then gets lucky with an edge off a Stokes bouncer, which flies over the slip cordon.
16:23 hrs IST
Stokes removes Shami
Ben Stokes has produced a snorter here. Pitches it short and Shami can't handle it. The outside edge is taken and Bairstow pouches that safely. Mohmmeed Shami has to walk back and England need only 2 wickets to win the match.
16:17 hrs IST
Stokes sends back Kohli
That's it, England have got what they desired for so long. The Indian captain is walking back after being trapped plumb in front of the wicket. India still need more than 50 runs to win and it is now down to Hardik Pandya and the tailenders. England in the driver's seat now.
16:13 hrs IST
Hardik Pandya cutting loose
Hardik Pandya is looking more and more comfortable here. He has hit Stuart Broad for two boundaries in an over. The first one was a classical stright drive, head down, elbow facing 90 degrees. The second one was a flamboyant flick through mid-wicket. India's runs required is down to the early 50s now. Broad, Anderson and captain Joe Root are involved in long discussions here.
16:00 hrs IST
Reversing the jinx (4)
4) More heartbreak stories for India. The tour of Sri Lanka in 2015 was the first full series under Virat Kohli's captaincy. India won that series 2-1 but not before a crushing defeat in the first Test. Despite taking a 192-run lead in the first innings, India allowed Sri Lanka to get off the hook as Dinesh Chandimal scored a valiant ton. Needing 176 to win in the fourth innings, the tourists folded for 112, as Rangana Herath took 7 wickets.
15:48 IST
Kohli, Pandya steady ship
Hardik Pandya has looked in control so far. Hasn't played any rash shots and apart from getting beaten outside the off stump on a few occasions, he has looked fine. Kohli on the other hand has been the 'Rock of Gibraltar'. The broadcaster just showed a clipping of Kohli speaking to Pandya before the start of play and it looked very intense. What could be the conversation? I have my ideas :)
15:41 hrs IST
Reversing the jinx (3)
3) The third instance of India's heartbreaking loss in a Test comes from the land of the calypso charmers. The year was 1997 and India were touring West Indies under Sachin Tendulkar's captaincy. On the other end were Brian Lara's Windies. The third Test match on a difficult Barbados pitch was a low scoring affair and India needed 120 to win after Venkatesh Prasad picked up 8 wickets in the match. Curtly Ambrose, Ian Bishop and Franklyn Rose tore India's batting apart in the fourth innings as they collapsed to 81 all out.
15:37 IST
Corridor of Uncertainty
James Anderson and Stuart Broad have completed their respective first overs and they have bowled the majority of deliveries in the corridor of uncertainty outside the off stump. Virat Kohli has so far taken two confident single with a push outside the off stump. While Hardik Pandya is yet to open his account.
15:30 IST
Anderson removes Karthik
James Anderson strikes immediately for England, induces the outside edge off Dinesh Karthik's bat and he is caught at second slip by Dawid Malan. India 112-6
15:18 hrs IST
Reversing the jinx (2)
2) India and Pakistan played out another humdinger on Indian soil, this time in 1998 at the Chepauk in Chennai. India needed 271 to win in the fourth innings and the duo of Waqar Younis and Wasim Akram were breathing fire. To give them company was the wily offie Saqlain Mushtaq. India were reduced to 82/5 when wicket-keeper Nayan Mongia joined talisman Sachin Tendulkar in the middle. The duo put on 136 for the 6th wicket before Mongia departed. Tendulkar though carried on with the tailenders, also fighting back spasms on the way. With 17 runs needed to win, Tendulkar was foxed by a Saqlain doosra and India lost by 12 runs.
15:13 hrs IST
Reversing the jinx
So yes, we will talk about Indian heartbreaks.
1) One that comes to mind first is Sunil Gavaskar's last Test match, played at the Cinnaswamy stadium in Bangalore in March 1987. India bowled really well to get Pakistan out for 116 in the first innings but Pakistan responded well and the hosts needed 221 runs to win the last Test of the series and win it as well, but the pitch was a landmine. Gavaskar played a classical Test knock with his backs to wall as wickts fell all around him. He was dismissed for 96 and India lost the match by 16 runs. Pakistan won their maiden and only Test series on Indian soil
15:08 hrs IST
Day 4 pitch report
Sanjay Manjrekar is on air with the pitch report which he said was done 90 minutes before the start of play. So, clearly it has been close to an hour since this was done. At that point the sun was shining and according to him there aren't too many demons in the pitch. So clearly it is the swing in the air that the Indians need to be able to handle to get the runs they need to win their maiden Test at Edgbaston
14:57 hrs IST
Reversing the jinx
So, we have reached the D-day of the Edgbaston Test. The match will be decided today unless weather intervenes. After three exhilarating days of Test cricket, the tie is still evenly poised. There have been several powerhouse performances from the Indian side but they are still walking a tightrope. They say, when you talk about something again and again, you tend to jinx it. So, we at Hindustan Times Cricket will not talk about a victory. We shall talk about Indian heartbreaks, where they came close to winning a Test but ended up on the losing side.
14:35 hrs IST
Tense Battle
No matter which way the match goes, it will be a tense battle between two of the best sides in world cricket. Both teams will have to work incredibly hard to register a win and hope for a slice of luck too.
14:15 hrs IST
Welcome to Day 4
Hi and welcome to the live blog for the Day 4 of the first Test at Edgbaston. The match is tantalizingly poised with both teams feeling they could win and take 1-0 lead in the series. Much will depend, from India's point of view at least, on how captain Virat Kohli does. England pacers will be the main threat from the home team's point of view.
Close Story
Personalise your news feed. Follow trending topics