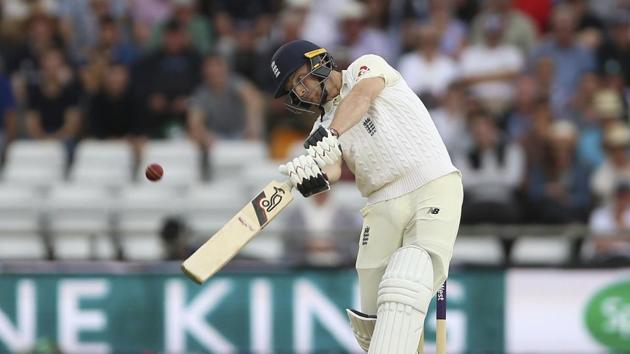 India vs England: Jos Buttler credits Shane Warne, IPL; Stuart Broad hails Virat Kohli's hunger
JosButtler, who was top-scorer for Rajasthan Royals in IPL 2018 , acknowledged the tournament was also an opportunity to brain storm as he looked ahead to the five-Test series against India
UPDATED ON JUL 29, 2018 08:38 PM IST
Jos Buttler has been England's player of the season for his easing into the Test team and the wicketkeeper-batsman has acknowledged that his stint in IPL, and Shane Warne's words of encouragement, have shaped his latest good run.
The T20 league was once frowned upon by England's cricket set-up and experts even questioned Buttler's initial selection for the Pakistan Test series. But all that has changed since his twin half-centuries in that that series followed by limited-overs contests against Australia and India.
Buttler, who was top-scorer for Rajasthan Royals in IPL 2018 with 548 runs and five half-centuries, acknowledged the tournament was also an opportunity to brain storm as he looked ahead to the five-Test series against India starting at Edgbaston on Wednesday.
ALSO READ | India vs England: Top 5 performances by Indian bowlers in England
"Confidence is the golden egg. At the IPL, Shane Warne at Rajasthan Royals was someone I loved getting to know. He was talking to me about Test cricket and saying, 'You're good enough to play it, that should still be your ultimate aim.' So the seed was planted," he said in an interaction with England teammate Stuart Broad for Mail on Sunday.
"The biggest difference is knowing you can do something. You can sit here and say, 'I believe I can get a hundred tomorrow'. But it's a different statement to say, 'I know I can get a hundred tomorrow'. That is something I try to think about."
Buttler says he benefited by talking to Anand Chulani, the Royals performance coach. "He talked about things in an interesting way. For example, sportspeople talk about the zone' I was in the zone, so it was my day. I think you can be in the zone more often than not if you want to.
"It's (that peak) is more accessible than you think. Anand talked about how an actor can go from being themselves to being the character they need to be. You can be who you want to be sat on the balcony, then when you get to the middle you make that space what you want it to be."
ALSO READ | India vs England: Virat Kohli remains main talking point ahead of 1st Test
Stuart Broad acknowledged India skipper Virat Kohli's hunger to succeed. "It's not like one opportunity, a gold medal at the Olympics. It comes round thick and fast. You fail at Lord's, but you've got Leeds in two days' time.
"Virat Kohli's a good example. He's just so hungry every time he goes out. It sounds easy, but when you're in competition 80 percent of your time, it's not. That's an interesting point about what motivates you and makes you want to push forward."
Buttler said the fact that people also looked to learn from him in IPL also gave a confidence boost. "Your self-worth starts to improve. I was almost too desperate to succeed at the IPL. I wanted to show the world. It was the one tournament I really wanted to crack."
Close