India vs England: Never wanted to be Kapil Dev, says Hardik Pandya after Trent Bridge heroics
Hardik Pandya routed England with his maiden five-wicket haul in Test cricket and then urged pundits to assess him on his own merits after most of them said he was "nowhere near" becoming the "next Kapil Dev".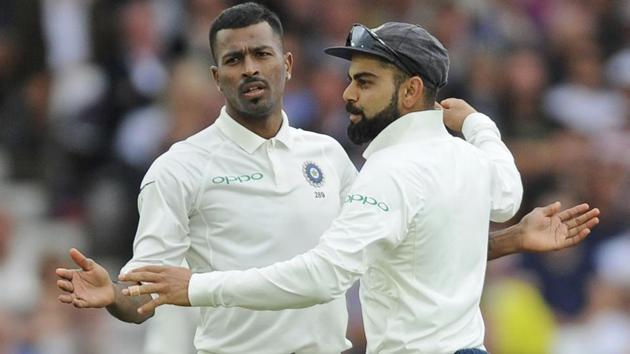 Updated on Aug 20, 2018 11:24 AM IST
Hindustan Times, Nottingham |
N Ananthanarayanan
Hardik Pandya has urged everyone to stop comparing him with Kapil Dev and dismissed criticism of his performances by former players saying "they are paid to say what they do."
The all-rounder grabbed 5/28 in a tantalising six-over spell of classy seam bowling to rout England for 161 and give India firm control of the third Test at Trent Bridge. India's magical seam bowling saw them take all 10 wickets in a single session on Day 2 of the Test India need to win to stay in the series.
The visitors were pushing for a sensational comeback in the series they trail 0-2 after taking a potentially match-winning lead of 292 runs with three days left. India were 124/2 at stumps on the second day.
Watch: 'I don't play for the media', says Pandya after decimating England
READ: Hardik Pandya leaves England reeling in Trent Bridge Test
"The problem is, what happens is that they compare with (Kapil Dev) but all of a sudden when something goes wrong they say he is not there. I never wanted to be Kapil Dev. Let me be Hardik Pandya, I am good at being that.
"I have reached here till now; I have played 40 ODIs and 10 Tests being Hardik, not Kapil Dev. They are great in their era, let me be Hardik Pandya. Let us stop comparing me with him. I will be happy if you don't. Thank you."
Former West Indies pace great Michael Holding, doing TV commentary in this series and in India's tour of South Africa, has said Pandya wasn't contributing consistently with bat or ball yet to be mentioned in the same breath as greats like Kapil Dev, Ian Botham, Imran Khan or Richard Hadlee.
READ: James Anderson enters Club 100 against India at Trent Bridge
His performances in this series has also been criticised by former India players. He scored 22 and 31 and took no wicket in the Edgbaston Test defeat. He made 11 and 26 and took 3/66 at Lord's, where India lost by an innings and 159 runs. He scored 18 in the first innings at Trent Bridge.
The 24-year-old dismissed the criticism.
"First of all, I don't play for them. They are getting paid for saying things. I don't even want to know, I don't even care what they say. And sir, I play for my country, It's their job to say it and it is my job to play for my country and I am doing the right thing, and my team is happy with me. Nothing else matters."
Close Story