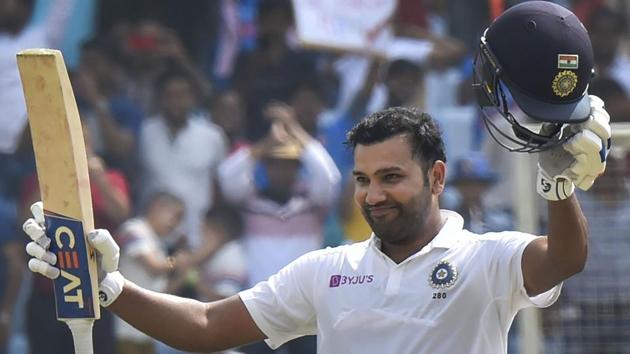 India vs South Africa: Rohit Sharma, Ajinkya Rahane pummel Proteas as hosts take command of third Test
Unstoppable opener hits maiden Test double ton and raises huge stand with India No.5 before visitors are shaken by bouncers.
UPDATED ON OCT 20, 2019 07:54 PM IST
South Africa did bounce out Rohit Sharma but it was after he tempted fate once too often. As Kagiso Rabada celebrated after Lungi Ngidi took the catch at long-leg, Sharma left to a spate of pats and handshakes from the South African players. Cricket's innate decency makes teams do that— acknowledge the effort of an opponent even when it grinds them to dust. Questioning the efficacy of South Africa's plan to bowl short to Sharma would be his numbers: 212 runs in 255 balls with 28 fours and six sixes. Ajinkya Rahane's 115, his 267-run fourth-wicket stand with Sharma, Ravindra Jadeja's 51 and Umesh Yadav getting to 30 in 10 balls with five sixes helped India declare on 497/9.
Also read: Umesh Yadav emulates Sachin Tendulkar's batting feat
South Africa were 9/2 when bad light and rain stopped the second day's play in the final Test 97 minutes and 34 overs before the scheduled 5pm close on Sunday. "The light doesn't look great after tea here and it is going to keep happening, I assume," said Sharma, whose first double-century in Tests came nearly two years after his third score of over 200 in One-day Internationals.
Avid puller
Sharma is unfazed by chin music; he plays the pull, often off the front foot, with such élan it doesn't look like the high-risk shot it is. His sense of position and ability to pick the length early before letting supple wrists take over is comparable to Greg Louganis perfectly executing three-and-a-half somersault with a tuck. The shot is more about panache than power and Sharma has attributed his mastery over it to playing on concrete pitches in the Mumbai suburb he grew up in.
In the presence of a good crowd on Sunday and with protection at deep square-leg and deep midwicket, Ngidi decided to test Sharma when he was on 199. Sharma got to his double-century with a pull in front of square-leg that fetched six.
Also read: Rohit Sharma rates double ton as 'most challenging' Test knock
In this innings, Sharma has had a way of reaching milestones. The 100 came with a six, 50 with a four making reaching 150 with a dab to mid-on an aberration. Two balls later, Ngidi tried again and this time it bisected the deep fielders and sailed over. Twice Sharma had played similar shots to the same bowler, whose comeback has fetched ordinary returns, before lunch on Saturday. Both were boundaries.
But just as Louganis once bumped his head at the Olympics, Sharma doesn't always get it right. In January 2018 at Centurion, Rabada had done him in. Sharma's first six here, in the innings' 23rd over on Saturday, came off a pull he top-edged but had the savvy to not check his shot. When he fell, it was to a hook that was pouched at long-leg.
Sharma and Rahane produced an array of shots as India, resuming on 224/3, scored briskly, at one stage almost run-a-ball when their partnership moved from 200 to 250 in 54 deliveries. India hit 22 boundaries in the first session.
Rahane cruises
A cover-drive from Rahane, off Anrich Nortje, that left George Linde stranded added radiance to a sunny morning. Rahane was driving in cruise control, evidence of which again came from an off-drive off Rabada. He survived a leg-before appeal to Nortje but when Ngidi gave him width outside off-stump, Rahane sliced past point. He also stepped out and hit Dan Piedt straight for a four and survived a stumping chance next ball when he was on 105. When Piedt came on in the next over, Rahane left charge and hit over mid-wicket for four. The next ball from Piedt screamed to the extra-cover fence.
Also read: VVS Laxman accurately predicted Rohit Sharma's score - Watch
A push to cover brought up Rahane's 11th Test hundred—the first in India after his 188 against New Zealand in October 2016 but his second in less than two months—before Sharma swallowed him in a bear hug. This was the first time since 2007 that two batsmen from Mumbai had scored centuries in an innings.
Rahane gave George Linde his first Test wicket when an attempt to steer the left-arm spinner ended in Heinrich Klassen's gloves.
Sharma powered on, having set the tone in Ngidi's 14th over with three boundaries—one to fine leg, one past cover and the third an imperious glide to third man. Piedt beat him once and Sharma insouciantly paddle-swept the next ball for four. This time, there was a third man but then he wasn't Superman. Yes, there was on odd blip such as when, with the new ball, Rabada forced an inside edge but Sharma took lunch on 199.
Consistency key
Debutant Linde, South Africa's most successful bowler with 4/133, said the need to be consistent was the lesson for their bowlers. "It is not easy to bowl in India because your line needs to be a lot straighter. In South Africa, you can go a bit wide because there is more bounce. And they are very good on the leg-side so you can't afford."
In the two overs they were allowed before soupy light forced India to use Ravindra Jadeja and debutant Shahbaz Nadeem— this is the first time two left-arm orthodox spinners were playing in tandem since Pragyan Ojha and Ravindra Jadeja against Australia at New Delhi in 2012-13—Mohammed Shami and Umesh Yadav showed South Africa how to bang in deliveries and make them count.
Also read: Lessons learnt for debutant George Linde after four-wicket haul
Shami opened the innings getting Wriddhiman Saha to be the goalkeeper he could have been till a harder ball became his life's calling. Next ball, a combination of bounce, pace and direction sent Dean Elgar back, the South Africa opener unable to get his bat out of harm's way. Yadav then got Quinton de Kock airborne, legs splayed with the bat handle near his face and the ball grazing his gloves to Saha, who defied gravity to take the catch.
Close