IPL 2018: Delhi Daredevils' Prithvi Shaw shows 'spark' of belonging at the top
The limelight that Prithvi Shaw has been getting since leading India to the 2018 U-19 World Cup triumph is only bound to increase after his IPL 2018 performances for Delhi Daredevils.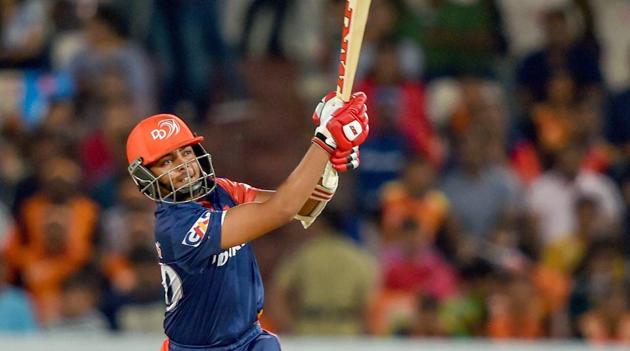 Updated on May 06, 2018 10:58 AM IST
Not every teenager gets compared to Sachin Tendulkar because of his technique. Prithvi Shaw is one such youngster. (SRH v DD report)
The observation came from Mark Waugh, himself a great batsman and currently a selector of the Australian cricket team. (HIGHLIGHTS) (SCORECARD)
The limelight that Shaw has been getting since leading India to the 2018 U-19 World Cup triumph is only bound to increase after the way the 18-year-old has been performing for Delhi Daredevils (DD) in the Indian Premier League (IPL) 2018.
In five matches, Shaw has scored 205 runs with a strike-rate of 170.83. Those numbers speak a lot but DD's assistant coach Pravin Amre believes that more than his T20 show, Shaw should be evaluated by his stellar first-class show.
First-class scores
"Prithvi is a special talent. I personally know from Mumbai when he was 14 years old. From school days he was making headline scoring 500 runs in a school match (Harris Shield elite division). Then he came to first class and scored a ton on his debut for Mumbai in Ranji Trophy. And then the four tons that he scored in first-class last season. It's different from scoring in a T20 game, it's how you play in first class that really counts," Amre said about the teenage wonder.
READ | IPL 2018: Prithvi Shaw blasts 25-ball fifty for Delhi Daredevils in Hyderabad
"In U-19 World Cup, he did well as a captain but for me what's more important is that he got those 400 to 500 runs in first-class. That shows the maturity of Prithvi. The IPL is a different opportunity and it's good that he is grabbing it. He has shown spark that he can get runs in this level against top bowlers."
Consistent show
Shaw scored 537 runs in six matches in the Ranji Trophy last season. His form has continued in IPL, where he has scored two half-centuries in five matches.
The beauty of Shaw's batting has been his astute judgement of the deliveries. The perfect example would be the 18 runs he hit off Sunrisers Hyderabad's top performing bowler Siddarth Kaul in the sixth over.
First Shaw picked Kaul's slower delivery early for a six at long-off and then struck three straight fours, two off short deliveries and one off a knuckle ball. All three fours were scored at different part of the ground.
'Rivals want his wicket early'
Senior SRH and India pacer Bhuvneshwar Kumar, who was defended with superb technique by Shaw in the first over, was impressed with his effort. "He not only played well against us but he did so in the last match too (47, vs Rajasthan Royals). He is a great talent and any opponent would want his wicket early. As an opponent myself today, I enjoyed his batting," he said.
READ | SRH's win vs DD a 'perfect' team performance': Bhuvneshwar Kumar
While Shaw has been impressive in most of the matches, he has failed to convert his starts in a couple of games. Some commentators have said that his backfoot movement needs to be polished.
"Every batsman has got areas to work. For me as a coach, I am happy that he is scoring runs. Regarding his feet movement, if he was getting out in the slips it would be an issue. Right now, he is middling every single ball. He is positioning himself pretty well. His feet movement would be an issue in red ball cricket but in white ball cricket it's alright. If he is getting 150 to 160 in his debut IPL, it's good. The important thing for him would be convert the 65 that he got against SRH to 70 plus in the next game," Amre said.
If Amre's words come true, then DD can very well hope great things from the young Shaw.
Close Story
Personalise your news feed. Follow trending topics