IPL 2019: Twitter erupts as Ravichandran Ashwin Mankads Jos Buttler - Watch
Mar 26, 2019 08:30 AM IST
Here's a look at how Twitterati reacted to Ashwin running Buttler out at the non-striker's end before releasing the ball.
Jos Buttler was on his way to a great century, but Kings XI Punjab's captain Ravichandran Ashwin noticed that Buttler was backing up too far at the non-striker's end. Ashwin, while delivering the sixth ball of the 13th over of the match, acted as if he was delivering a ball and then took the bails off once Buttler had left the crease during Rajasthan Royals and Kings XI Punjab's IPL 2019 opener in Jaipur on Monday.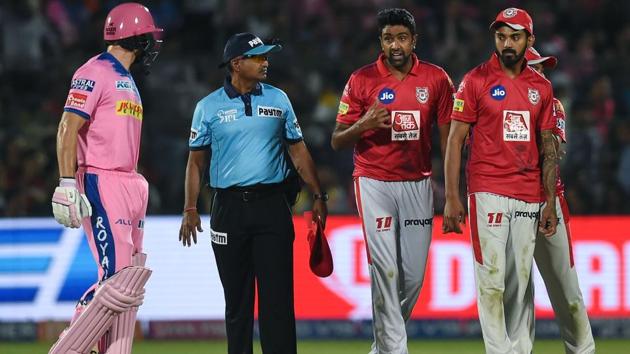 The umpires declared him out and Buttler was livid with Ashwin as he walked off the field. The wicketkeeper-batsman was dismissed for 69 runs from 43 balls. It was a crucial moment in the match as Buttler was taking the match away from Punjab.
Prior to 2017, bowlers had to warn batsmen if they were backing up too far before a delivery was bowled, but in November 2017, the MCC changed the rule and allowed the bowlers to run out a batsman if he was outside the crease before the ball has been released.
READ: Ashwin mankads Buttler as KXIP win match by 14 runs after RR collapse
"If the non-striker is out of his ground from the moment the ball comes into play, to the instant when the bowler would normally have been expected to release the ball, the bowler is permitted to attempt to run him out," states the law on Mankad-ing.
When a bowler runs out a batsman in this fashion, it is informally called Mankad-ing. The name for such run outs was coined when Vinoo Mankad ran out Bill Brown twice at the non-striker's end before delivering the ball in India's tour of Australia in 1948. The Australian media called the act unsportsmanlike, however, the then Australian captain Don Bradman supported Mankad's action.
The cricket players, pundits and fans immediately took to Twitter to express their views on the incident which ranged from some criticising Ashwin while the others backing him for doing what is well within the rules.