Irfan Pathan was trolled for tweeting this 'un-Islamic' photo of his wife
Jul 19, 2017 09:44 AM IST
Irfan Pathan's wife can be seen wearing nail polish in a picture uploaded by the Indian all-rounder on Facebook, which drew flak from some fans.
Indian all-rounder Irfan Pathan, on Tuesday, was criticised by many on Instagram as well as on his Facebook page, after he posted a photograph with his wife who can be seen wearing nail polish.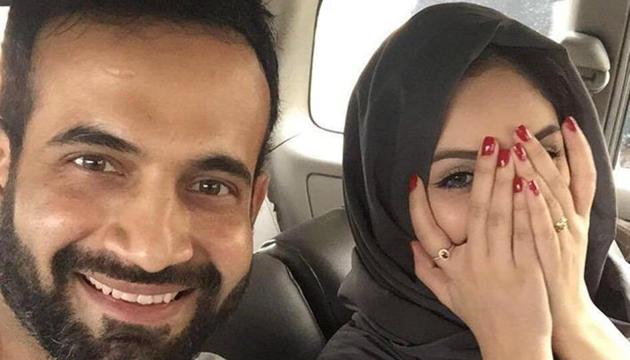 Even though Irfan's wife Safa Baig — to whom he got married to in February 2016 — can be seen wearing a burqa in the photograph, her exposed hands and nail polish has enraged many fans who have posted ridiculous comments.
(Read | Nasser Hussain slams 'abysmal' England selection post Trent Bridge loss vs SA)
"WTF. Tell her cover her arms. Being a muslim and being a Pathan its your duty to do so," (sic) wrote a person by the name 'Jagga Jasos'.
"Hiding face is not Farz…But hiding arms is farz Irfan bhai... She'is hiding her face its good, may Allah bless her… But tell her to hide her arms too..." wrote a certain Kaashif Raza Khan.
A person named Abdullah Qureshy wrote, "Mashaa allah, esi baat nahi h ki islaam aap par laagu hota h, but aapaki chhavi ek sachche musalman ki h so pleaase bhabhi ko parde me rakho." (Your image is that of a true Muslim, so please keep your wife in veil).
(Read | One ball, three injuries: Bizarre cricketing incident in local match in Australia)
Another person named MD Mojibur Rahman Majid wrote, "Bhai nice picture. But please don't update Wife or any of our Muslim girls pictures . I really highly respect your family coz you got so nice family, your family example for others, I got one humble request to you please don't update muslimas pictures, our girls are very special . They simply not come out, I love you bhai." (sic)
(Read | Joe Root stunned by Michael Vaughan's 'fail to respect Test' comment after loss)
Not long ago, India pacer Mohammed Shami was subjected to similar treatment by cricket fans on social media, after a few fanatics attacked him on the internet platforms where he had posted a photo with his wife.
(Read | Mohammed Shami faces fire over wife's dress in couple's photo)
Shami, who was nursing a knee injury in between the India-England Test series late last year, had posted a photograph with his wife. Shami too was attacked by fanatics on social media platforms, and he also received support from several cricketers such as Mohammad Kaif.
While many criticised Irfan and his wife — a Jeddah-born model who was working in Dubai before their marriage — there were several who came out in support of the couple who looked adorable in the photograph.
"I think it's none of your damn business what they do, what they wear and how they act. Keep your religion mindset somewhere else. Be it he's Muslim or not, it's between him and his god, there's no you in between them, I'm sure you all know that. "I suggest you become a great Muslim"? What makes you think you're a great Muslim? Because you mind someone else business? are your own teachings enough to judge other? Don't think so. I don't think you have the right to tell him what to tell his wife. His wife looks awesome and they look awesome together, they look like they were going somewhere nice together. Be happy, live happily. Maybe you guys can learn a thing or two if you stop looking at your wife as if she's a thing you order around," wrote Leizs Hol.
"Does the women hav any rights what she has to do???islam k thekedar aagaye ...people r no one to advise what she or irfan does with ther life," (sic) wrote Tushar Narkhede.