Is KL Rahul, the batter-wicketkeeper, India need at No 5?
Jan 13, 2023 08:28 PM IST
Decent keeper, a proper bat lower down the order, Eden win shows the 30-year-old can do whatever he is asked to
KL Rahul has batted, kept wickets and led, not always successfully. On his Test debut at the MCG, Rahul batted at No 6 in the first innings, No 3 in the second before opening in the next Test at Sydney where he scored a diligent hundred. During the 2019 World Cup, he was a designated middle-order bat before being asked to open once Shikhar Dhawan was injured. Between Nos 1-6, he has batted everywhere in Tests and ODIs. And now he is back to keeping wickets, something he has done more often in the IPL than at the international level. That Rahul has lived many roles would be an understatement.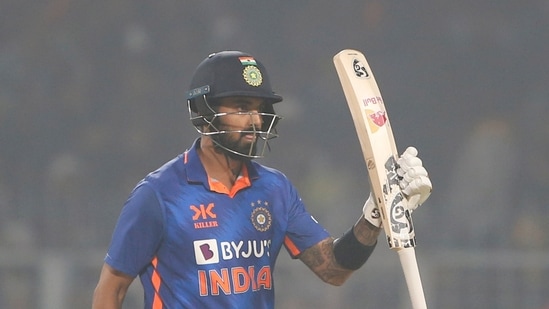 Recent developments may require Rahul to integrate both roles for at least the next six months. Because that's the minimum Rishabh Pant is predicted to be out of action for in the aftermath of his road accident. That, and Shubman Gill getting the nod over Ishan Kishan as Rohit Sharma's opening partner means India could well be looking at Rahul the batter-wicketkeeper for some time to come. Batter-wicketkeeper, and not wicketkeeper-batter.
Because if we are talking MS Dhoni standards here, no one bar Pant can come close to his keeping dexterity. India are probably not even seeking that expertise. All they need now is a No 5 who can score big, often with the lower order as company, and be decent behind the wickets. India's attritional win at Eden Gardens where Rahul played anchor after keeping wickets for 40 overs, ticked all the mandatory boxes.
Time isn't an issue in ODIs if a middle-order batter is willing to treat it as two-and-a-half T20 innings. "One thing I really enjoy is that you don't have to rush back into batting," Rahul told the broadcasters after Thursday's win. "You get time to put your feet up, have a nice cold shower, have a good meal and then relax and then see what's happening before walking in. That's the good thing about batting at No. 5."
And with the deep batting India possess these days, Rahul wouldn't have to worry too much about the other end. Like at Eden, where for the bulk of his stay Rahul had Hardik Pandya and Axar Patel for company.
Here's an additional kicker: Rahul averages better (59.63) in ODIs where he is designated keeper than in those (40.23) where he is just a specialist batter. When you revisit his innings on Thursday keeping in mind this statistic and the fact that India will be hosting the ODI World Cup in nine months, it gives off a reassuring vibe.
Because Rahul possesses all the strokes to accelerate but also knows when to pause and step back, assess the situation and then come up with a plan that doesn't involve much risk. What may hinder him at times in T20s is definitely an advantage in one-dayers, even though it requires more work.
"Batting at No. 5 has just helped me understand my game a little bit better," he said at the press conference. "Given the ball is slightly older, you have to play spin straightaway and that's not what I am used to usually. Obviously, Rohit (Sharma) is very clear that that's where he wants me to bat and he's conveyed that to me. So now I am challenging myself to get used to this position."
Add wicketkeeping to this job description and it takes on a whole different meaning. "Obviously I have done this for a couple of years now. I did a few games in 2019 and then throughout 2020 and a few games in 2021," said Rahul. "It's not something that's new. I have had time to settle into this position, a different role. It's different from what I do in the other formats but it keeps me on my toes, keeps me challenged. It can be slightly more taxing on the body because I haven't done it for too long in white ball cricket. So that's the tough part. Since I know this is what is required from me, I try to manage my body and work that much harder on my fitness, a little bit of work on my wicketkeeping and a lot of work on batting in the middle order."
Pant will return one day. Kishan is around, so is Sanju Samson. But only 11 places are up for grabs, and a multitasker is always highly sought-after. Rahul knows that well. "Firstly, I want to be in the playing XI, that's the most important thing," he said. "What the team requires me to do, I try to do that. I've done that throughout the time I played for India. When you decide to choose a team game as a sport or profession, you have to be ready or flexible to do whatever job you're asked to do."
Rahul warming up to wicketkeeping not only opens up another slot for a specialist batter but also creates an alternative just in case Pant, Kishan or even Samson don't work out for India. And no one knows this better than head coach Rahul Dravid who was asked to keep wickets by Sourav Ganguly during the 2003 World Cup. Twenty years later, for a World Cup at home, it wouldn't be unwise to ready one of India's more technically correct batters as contingency.
Enjoy unlimited digital access with HT Premium
Subscribe Now to continue reading