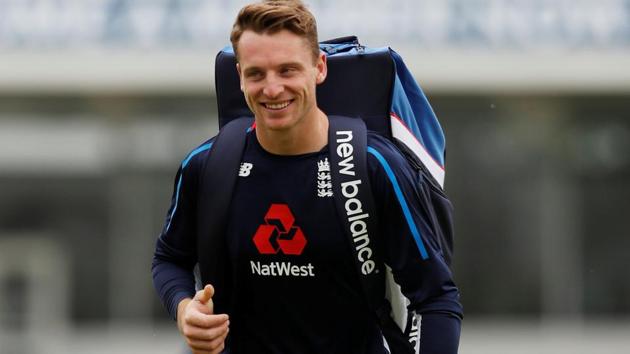 Jos Buttler 'maturity' is just what England need, says Michael Vaughan
Jos Buttler can provide the much needed maturity to the England cricket team, according to former skipper Michael Vaughan.
UPDATED ON MAY 24, 2018 04:46 PM IST
The returning Jos Buttler can be the man to provide England's Test team with the "maturity" they need, according to former captain Michael Vaughan.
Buttler is set to make his Test comeback against Pakistan this week, having not featured in the longest format since facing India in December 2016.
READ | Ben Stokes fit and ready to fire for England, says skipper Joe Root
And the 27-year-old could be a big player for England, according to Vaughan. The former Yorkshire star wants to see Buttler perform as he has in limited-overs cricket, having impressed for Rajasthan Royals in the Indian Premier League.
"[Buttler] is a gifted player, he's got an incredible mind on him, the way that he plays the white-ball game," Vaughan told Omnisport.
"He didn't do bad in the Test arena the last time, 18 months ago. He's got an average of 31 which is not too bad when you're just starting out. I just hope that he plays with that freedom, that ability to really put the opposing captain under pressure.
"The main challenge will be the first 20 balls that he faces. In Test match cricket, there will be three of four slips, there will be men around the bat and you do have to give yourself that little bit of breathing space when you go out to the middle just to assess the conditions, what's happening.
"Generally, in 20-over cricket, in 50-over cricket, he goes out playing strokes from ball one. It's just whether his mind can adjust to playing in a more sensible way to give himself a chance.
"But once he gets in for 20 to 30 balls, you expect him to go out and play exactly the way he plays in the white-ball game.
"The maturity that he'll bring to the group will be good. I do think that the Test match team is a team that I look at and feel that they can be a little bit more mature in the way that they play, and I think Jos Buttler can help with that."
Close