Jwala Singh, the man who first saw spark in Yashasvi Jaiswal
Updated on Jul 04, 2018 05:17 PM IST
It was Jwala Singh, who first saw the fire in Yashasvi Jaiswal's eyes and the spring in his steps, as he wandered around for life's basis necessities, plus an opening in cricket.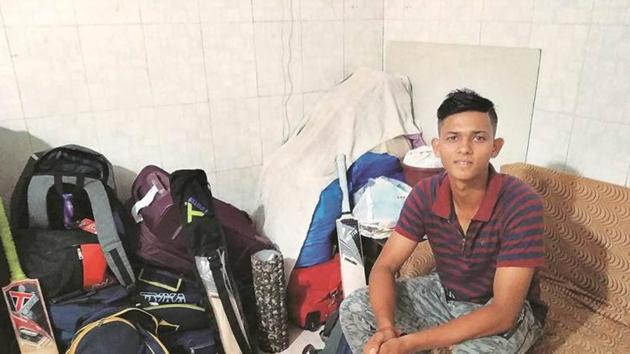 Press Trust of India, Mumbai |
Press Trust of India
Unheralded, anonymous but starry-eyed, Yashasvi Jaiswal and Jwala Singh are perhaps two sides of the same coin.
It was Jwala, who first saw the fire in Jaiswal's eyes and the spring in his steps, as he wandered around for life's basis necessities, plus an opening in cricket.
There was not enough food and no proper shelter, but the 17-year-old Jasiwal battled the odds and is now primed to make the India U-19 team for the tour of Sri Lanka, alongside a certain Arjun Tendulkar.
"I had gone to Azad Maidan (in South Mumbai) in 2013, when I saw him (Yashasvi) practising, when he was 11-12 years-old, when he was facing A division bowlers. A friend of mine told me that he plays well, but was going back to his village in Uttar Pradesh," Jwala said.
Jwala runs a cricket academy in suburban Santacruz.
For three years, Jaiswal slept with groundsmen in a tent belonging to the Muslim United Club inside the Azad Maidan Ground premises in Mumbai. Before that, he worked in a dairy shop, where he used to sleep for the night.
Recalling the days gone by, Jwala added, "He had lot of problems and there was no one to support him. I asked where does he stay and was told that he stays at the tent of the Muslin United (Club). I was shocked, and after he was done with batting, I spoke to him.
ALSO READ | BCCI issues strict advisory to increase transparency in state T20 franchise leagues
"He told me that he was from Bhadoi and stayed here (at the tent) and was heading back as he felt that his cricket was over.
"I asked him to meet me. He showed me his (cricket) file and (it) looked impressive. I told him that I will make arrangements for his stay."
Then on, life took a turn for better for Jaiswal.
"From that time, his parents have never interfered. I took a lot of extra efforts on him when I felt that he could make big. I worked on his batting. He did not have strength.
He had a fear that he won't play cricket and it was important to drive out the fear," the coach added about the boy who hails Bhadohi in Uttar Pradesh and is one of the two sons of a shopkeeper.
Once he discovered Jaiswal, Jwala said, he tried to make the middle-order batsman technically, mentally and physically strong.
"I took him to Juhu beach for fitness. He was an under-privileged child, as he did not get proper diet. There were also other issues, which needed to be worked on.
"We worked on him for hours and now he has become stable. He was handling other issues and he too worked hard on it."
Jwala said the U-19 selection could be a big break in Jaiswal's journey.
ALSO READ | Virat Kohli, India captain, becomes fastest to reach 2000 runs in T20 cricket
"He is talented player. At the end of the day, he is just 17 and if he performs well, he will go ahead. He has special ability," said Jwala.
According to former Mumbai U-19 coach Satish Samant, the left-handed batsman was always focussed on realising his dream.
"He never told me about his background and never took advantage of it. I did not know about it (the background from where he came). He is away from social media and he would be a one-off boy, who is so much focused at his age, which is good sign," Samant, who had coached Jaiswal in the Mumbai U-19 team, said.