Ravindra Jadeja calls 20-year-old IPL star 'future of India' in priceless message; shares selfie with youngster
Feb 01, 2023 02:40 PM IST
Ravindra Jadeja called the youngster 'future of India' in a heartwarming post on Instagram.
Team India all-rounder Ravindra Jadeja is set for a return to the national team this month when it takes on Australia in a four-match Test series, starting February 9th. Jadeja had been away from the side since September last year as he nursed his knee injury, and made a return to cricketing action last month with the Ranji Trophy, India's premier first-class tournament.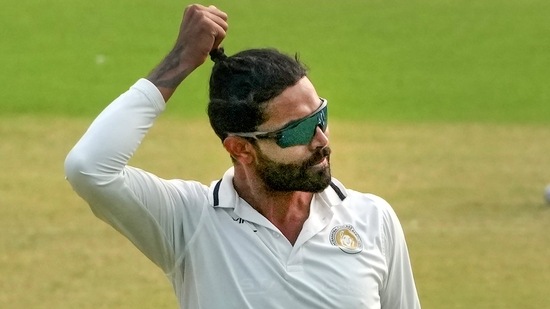 Jadeja had led Saurashtra in the final group match in Chennai, and took seven wickets in the second innings of the match; however, the side faced a 59-run defeat against Tamil Nadu.
Also read: Watch: Hanuma Vihari dares wrist fracture to bat left-handed for Andhra Pradesh after 9th wicket; Fans salute India star
Following the game, Jadeja traveled to Bengaluru where he seemingly met Tilak Varma, the Hyderabad all-rounder who enjoyed a breakthrough season with Mumbai Indians in the Indian Premier League last year. Jadeja posted a picture with Varma, and had a priceless caption for the player.
"Chilling with future of India," Jadeja wrote.
Jadeja is not the first Indian player to make such a prediction for Tilak, though. Last year, India captain Rohit Sharma had also stated that the 20-year-old star could be an all-format player for the side soon.
"He (Tilak) has been brilliant, playing for the first year, having such a calm head is never easy. I feel he's going to be an all-format player for India pretty soon. He's got the technique and temperament. A lot of things are looking bright for him. And there's hunger as well," Rohit had said in the post-match presentation following MI's final match of the IPL 2022 season.
Tilak opened up on Rohit's remark a few weeks later, insisting that he has had chat with the MI skipper on the same after the end of the season.
"Yes, I has had a personal chat with Rohit bhai after that. We talked about how I can improve on my batting. I always think about how I can make my team win matches, personal achievement is secondary. So, this time, I was playing good although I couldn't finish in some matches. So, Rohit bhai and I had a conversation on that as well. He told me to back my strengths. We also had a talk about skills," Tilak told News24.