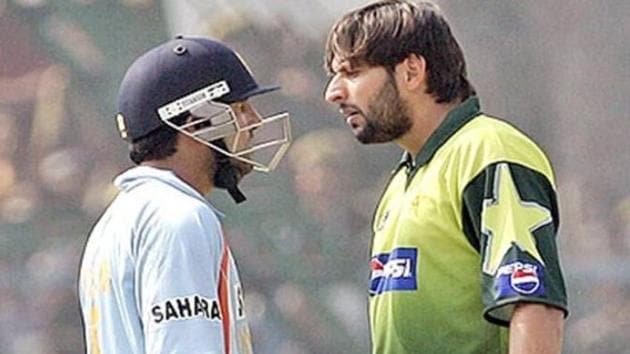 Shahid Afridi hits back at Gautam Gambhir, offers Pakistan visa for 'treatment'
Shahid Afridi, at the launch of his autobiography on Saturday, said he would arrange for a Pakistan visa for Gautam Gambhir's 'treatment'.
UPDATED ON MAY 05, 2019 12:24 PM IST
There is no end to the feud between Shahid Afridi and Gautam Gambhir. Reacting to Gambhir's 'psychiatrist' remark, Afridi said he would arrange visa for the 'treatment' of the former India opener in Pakistan. Afridi made the comments at the launch of his controversial autobiography 'Game Changer' in Karachi on Saturday.
"I think Gautam Gambhir may have some problems. I am working with hospitals and I can get him very good treatment here," Afridi said.
"The Indian Government doesn't normally give visas to our people, but I will welcome everyone from India to Pakistan. Our people and our Government have always welcomed Indians and as for Gautam, I will get a visa arranged so that his treatment can be done here," Afridi added.
It all started when Afridi launched a vicious attack on Gambhir in his autobiography, terming him someone who has no personality and the one who has a lot of attitude problem.
Also Read: Afridi reveals big details about 2010 spot-fixing scandal
"Some rivalries were personal, some professional. First the curious case of Gambhir. Oh poor Gautam. He & his attitude problem. He who has no personality. He who is barely a character in the great scheme of cricket. He who has no great records just a lot of attitude."
Afridi also took a jibe at Gambhir by referring him as a cross between Don Bradman and James Bond.
"Gambhir behaves like he's a cross between Don Bradman & James Bond. In Karachi we call guys like him saryal (burnt up). It's simple, I like happy, positive people. Doesn't matter if they are aggressive or competitive, but you have to be positive & Gambhir wasn't," he further wrote in his autobiography.
Gambhir hit back at Afridi by offering to take him to a psychiatrist.
Also Read: CSK Predicted XI against KXIP - Harbhajan to miss out
"...you are a hilarious man!!! Anyway, we are still granting visas to Pakistanis for medical tourism. I will personally take you to a psychiatrist," Gambhir tweeted.
The two had an angry bust up during a bilateral series ODI in Kanpur back in 2007 (wrongly referred in Afridi's book as Asia Cup game).
"I remember the run-in with Gambhir during the 2007 Asia Cup, when he completed his single while running straight into me. The umpires had to finish it off or I would have. Clearly we had a frank bilateral discussion about each other's female relatives," Afridi recalled the uncharitable verbal exchange.
Afridi has recently agreed that he had indulged in age-fraud. In his autobiography, he claimed that he was 21 years old when he scored his debut hundred and not 16, as it was believed for a lot of years.
Close