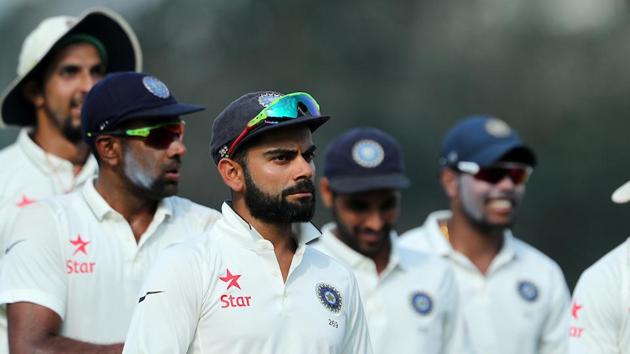 Virat Kohli's Indian team celebrates Christmas, takes up mannequin challenge
Virat Kohli's Indian cricket team celebrated Christmas and wished their fans in a unique manner, by taking up the mannequin challenge.
Hindustan Times | By HT Correspondent
UPDATED ON DEC 25, 2016 06:56 PM IST
New Delhi: It is the start of the holiday season. Thus, it is time for the mannequin challenge, a recent phenomenon that has taken the Internet by storm. Virat Kohli and his Indian cricket team were the latest participants.
After securing victory in the Chennai Test against England, Kohli and the entire Indian team took the challenge. In a video shared on the official Twitter handle of the BCCI, the 81-second long video shows most of the Indian players frozen while the camera moves on.
The video starts off with Kohli kissing the Anthony D'Mello trophy and the camera pans to Ravindra Jadeja and Umesh Yadav standing together. It moves to Ishant Sharma pointing his finger towards either Jadeja or Umesh. The camera then pans to Cheteshwar Pujara practising a stroke followed by Murali Vijay in a solid defence. Manish Pandey is seen exchanging a bat with his Karnataka team-mate Karun Nair.
The camera pans around the entire Indian dressing room with most of the players frozen in one frame. The video ends with Kohli and the entire Indian team and support staff wishing the fans a Merry Christmas and a Happy New Year.
The mannequin challenge is a viral Internet video trend where people remain frozen in action like mannequins while a moving camera films them. The song "Black Beatles" by Rae Sremmurd is normally played in the background. It is believed that the phenomenon was started by students in Jacksonville, Florida, on October 12, 2016.
Kohli and the entire Indian team have enjoyed a magnificent 2016, with the Test team having gone through the year undefeated. The Indian Test skipper smashed over 1000 runs in 2016, including three double centuries.
Close