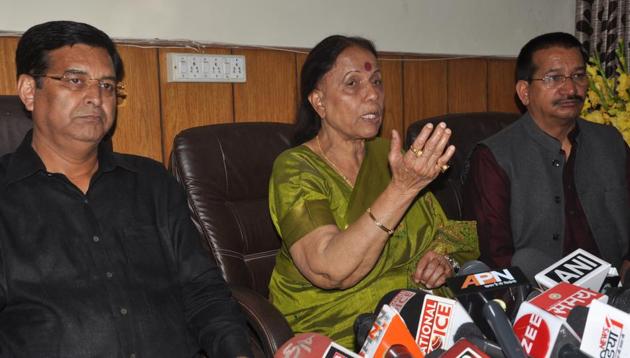 Congress lines up ammo against Trivendra Rawat, asks why isn't govt staff getting salary
Congress said it was the first time that the government had to take loan to pay salaries, yet employees in various departments were yet receive their pay for many months
UPDATED ON FEB 27, 2018 08:13 PM IST
In the upcoming Budget Session, the Congress will corner the Trivendra Singh Rawat-led BJP government over its "failure" on fiscal management, the party said Tuesday.
The decision was taken during a meeting of Congress MLAs ahead of the Budget Session that starts on March 20.
"It is for the first time in the state that the government had to avail loan to pay salaries. Despite this, employees in various departments have not received their pay for many months. Even the contractors are awaiting their dues," Leader of Opposition, Indira Hridayesh, said.
She added that the Congress will also raise issues concerning the farmers and traders who have been hit hard due to demonetization and the Goods and Services Tax (GST). "At a time when farmers and traders are committing suicide, the chief minister says that it has become a fashion."
Speaking about education and employment, the former finance minister said that the state was yet to see the BJP's pre-poll promises being honoured by the government. "There is no concrete policy on higher education; the schools have been asked to teach from NCERT books but we don't know by when students will be provided these books. The government also failed to address the concerns of women when they were protesting against opening up of liquor vends in the hills," she said.
On the allegations against the Congress in the NH 74 scam, party state president Pritam Singh said they have demanded a CBI probe into the scam. "If the government is serious about eradicating corruption, why is it shying away from handing over the probe to the CBI?" he asked.
The party added that the government should also investigate role of the then district magistrate into the scam. "Once the DM is probed, many skeletons will tumble out," said Kishore Upadhyay, former PCC chief.
He also accused the government of "pressuring" officials and extorting money from traders to arrange funds for the BJP. "The government's entire focus is on collecting money for the BJP. The party must disclose the source of the Rs 25 crore that it recently collected in the state," he said.
Speaking on the issue, former MP Pradeep Tamta said, "One of the cabinet ministers has publicly stated that he has contributed Rs 1.2 crore to the party fund. We know that he comes from a humble background. He must now explain the source of the amount that he has contributed."
Meanwhile, the party said it will also raise the issue of Gairsain and redevelopment of Kedarnath during the Budget Session.
"The then UPA government had sanctioned Rs 8,000 crore for the redevelopment of Kedarnath. Of this, Rs 2,000 was released during our tenure. No fresh amount has been released since then, neither has the BJP started any new project in Kedarnath. The Prime Minister is merely inaugurating projects that were started or commissioned by us," Pritam Singh said.
Close