Ten killed as rains pummel Uttarakhand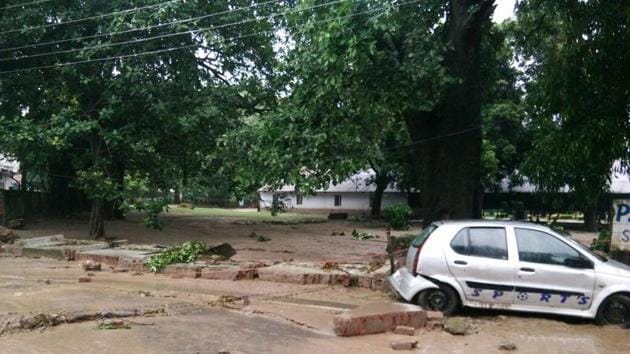 Updated on Aug 04, 2017 08:00 PM IST
Hindustan Times |
HT Correspondents
DEHRADUN: Incessant rains that lashed Uttarakhand in the last 24 hours killed at least 10 people, officials said
on Friday.
Pauri Garhwal alone accounted for six deaths. Two bikers were drowned in the Mahakali river in Pithoragarh
after debris hit their bike, while a school student slipped into the Tehri lake. A rivulet swept away a child in Bagheswar.
According to the meteorological department, rain will continue on Saturday and Sunday. The average rainfall on Thursday was 20.9 mm in the state. Dehradun received 143 mm of rain, Rishikesh 138 mm, Haldwani 97mm and Haridwar 95 mm. Kotdwar recorded the highest at 245mm. Rain ranging from 115.6 mm to 204.4 mm is considered "very heavy rain" as per the India Meteorological Centre (IMD) standards, while anything between 64.5 mm and 115.5 mm is considered "heavy rainfall".
While major rivers are flowing close to the danger mark, the water level at Tehri dam reached 800 metre. Dam officials have alerted officials of adjoining districts as the sluice gates would be opened to release water.
The heavy deluge at Kotdwar and nearby areas of Dwarikhal block claimed six lives and left widespread devastation. Due to heavy rain on Thursday night, the Paniyali Gadhera (a rain-fed channel) at Kotdwar
in Pauri swelled and flowed dangerously towards a refugee colony.
According to the district control room, Lakshya Arora, 25, was caught in strong current and drowned, while Jyoti Devi,40, was buried alive under debris. In the adjoining village of Manpur in Kotdwar, 60-year-old Shanti Devi died when a wall of her house collapsed. Ajay Kumar, 40, of Manpur is feared to have drowned in strong current.
The heavy downpour continued throughout the Thursday night and relented only by Friday morning but not before it had turned the roads and streets of Kotdwar into streams. The streets and roads of Govind Nagar, Station Road, Jhandachowk, Badrinath Road, Malgodam Road and Gadighat were inundated.
Water entered many houses . Widespread damage is reported from the fields of Simmalchaur and Nimbuchaur area, while the swollen Paniyali Gadhera devastated Jounpur, Shivpur, Manpur, Sitabpur and Kaudiya areas of Kotdwar.
Muskan Bano, 16, of village Ramagaon of Kotdwar Tehsil was buried under the debris when one of the walls of her house collapsed. Pauri district magistrate Sushil Kumar has left for Kotdwar to oversee rescue work.
People rescued in Haldwani
On Friday morning, the State Disaster Response Force (SDRF) and the police rescued 19 people stuck at the banks of the swollen Nandhauri river near Chorgaliya. These people from Amkheda village had gone for a cremation on the banks of the nearby Kailash river.
At that time, the water level was low in the Nandhaur river, but it went up menacingly. The group was forced to remain on the river bank even as darkness crept in.
Nainital district magistrate Deependra Chaudhary decided not to take any risk in the dark and strong water currents. It was only after the water level came down around 3 AM that the SDRF and the police used a raft and ropes to rescue the stranded group. Nainital SSP Janmejay Khanduri said rescue teams waited for the water level to go down as there could have been serious problems in the swift currents .
Kumaon region also received heavy rains. Two bike borne men were killed in Pithoragarh when a boulder fell on their two-wheeler.
(With inputs from Arvind Moudgil in Pauri and Abhinav Madhwal in Haldwani)
Close Story
Personalise your news feed. Follow trending topics