Uttarakhand inks MoU with ISRO for advanced satellite-based forecast
Updated on Feb 16, 2018 09:58 PM IST
The satellite-based forecasts from Space Application Centre at ISRO will give alerts at least 72 hours in advance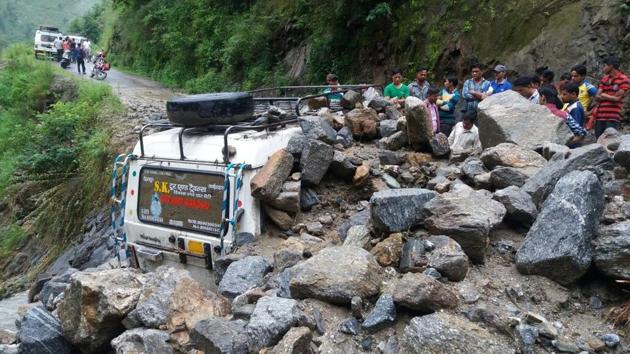 The Uttarakhand government has signed a memorandum of understanding (MoU) with the Indian Space Research Organisation (ISRO) in Ahmedabad on February 15. The collaboration will ensure better forecasts and instant delivery of images post-disaster.
The Uttarakhand Disaster Mitigation & Management Centre (DMMC) was receiving forecast alerts from the Indian Meteorological Department (IMD). However, the forecasts from Space Application Centre at ISRO are satellite based. This means that the state would get alerts at least 72 hours in advance.
Piyoosh Rautela, executive director, DMMC who signed the MoU on behalf of the government said, "IMD has certain models through which we were receiving forecasts and alerts. But, the satellite-based alerts from ISRO are advanced. This will give us more time."
Apart from forecasts, ISRO will also provide information about other important weather conditions. This mainly includes drought monitoring, soil moisture, humidity and various other factors that would be passed on to the government for analysis and preparation to deal with the forthcoming disaster.
"The advantage of satellite forecasts is that it captures the imagery of the entire state. Sometimes IMD missed small details, which is covered by ISRO. This will help us maintain records of even slight changes in climatic conditions," Girish Chandra Joshi, senior executive at DMMC said.
Most importantly, post-disaster imagery data will now be easily available. According to experts, they had to request the central government to access the images of disaster-affected areas. But, with satellite-based forecasts, all this will be instantly shared.
With the help of World Bank, the DMMC is already in the process of installing 176 hydromet equipment and automatic weather stations across the state. These will help in immediately accessing the forecast and sending alerts to respective officers.
Already the state has reported earthquake of less than 5 magnitude since December. In May last year, a landslide hit Chamoli district on Rishikesh-Badrinath National Highway in which several people were stranded and later rescued.
The June 2013 Kedarnath tragedy shook the hill state and 5000 people lost their lives.