30-year-old arrested for trying to rape woman in south Delhi park
Hindustan Times, New Delhi |
, New Delhi
HT Correspondent
Sep 24, 2018 03:18 AM IST
A 30-year-old woman has alleged that a man tried to rape her when she had gone for a walk at a park in south Delhi's Amar Colony on Thursday evening
A 30-year-old woman has alleged that a man tried to rape her when she had gone for a walk at a park in south Delhi's Amar Colony on Thursday evening, police said. The man, identified by police as Amar Singh from Bahraich in Uttar Pradesh, was arrested, police said.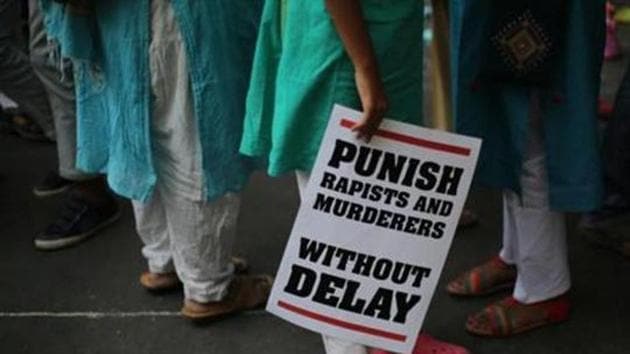 The woman, an advocate, narrated her ordeal in a post on Facebook. She also raised questions about the behaviour of police officers at the Amar Colony police station. In her post on the social media website, the woman claimed she was dragged and sexually harassed in the park around 7.30pm on Thursday. She said she somehow managed to escape and called the police.
"Suddenly I felt someone holding me and pulling me inside park…. this man was holding my waist approaching me for some sexual act… I switched on my flashlight and this man realised I won't give in… I held his t-shirt by the collar to see his face… he pushed me again and I fell on the bushes and he started to walk away," the woman said in her post.
She claimed that she managed to take a photo of her alleged attacker and chased him in order to catch him, but he escaped by scaling the park's boundary wall. "I chased him but I couldn't get hold of him. My phone was broken, fingers were scratched and my leg was injured because the rock hit my bone. I took an auto and I went to the police station at Amar Colony," she narrated.
The woman alleged that even five hours after the alleged crime, an FIR had not been filed by the police officers at Amar Colony police station.
She narrated the alleged problems she faced after reporting the incident to the police and while being taken to medical examination. She further claimed that the police officers were "insensitive" and were "continuously joking and laughing" while they were escorting her to All India Institute of Medical Sciences for her medical check-up.
DCP (southeast) Chinmoy Biswal said he would act if he receives a complaint from the woman against the police station staff. "We will look into her complaint. For now we have registered a case under sections of sexual harassment and attempt to rape at Amar Colony police station. The accused, Amar Singh is a native of Bahraich in UP. He has been sent to judicial custody."
Her statement was also recorded before a magistrate.