Air pollution, diet, weight: Lancet report lists what ails India
Sep 13, 2018 09:03 AM IST
Lung ailments common in Delhi, heart problems in poor states, says a new study in The Lancet Global Health.
Establishing a definitive link between death from chronic respiratory diseases and air pollution in north India, a new study in The Lancet Global Health said high exposure to outdoor and indoor air pollution in northern states is the leading cause of the high burden of chronic obstructive lung disease (COPD) in these states, where the death rate from COPD is twice as high as states with cleaner air.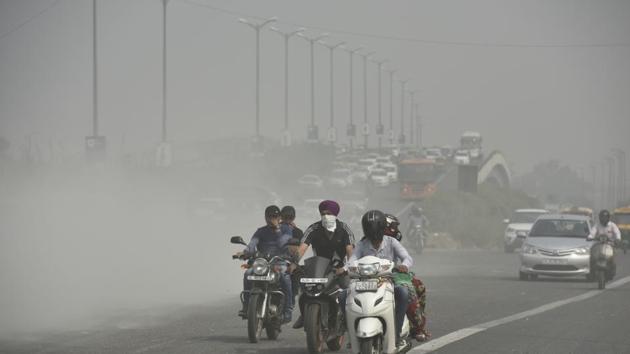 Apart from COPD, polluted air also raises the risk of heart disease, stroke, diabetes and cancers, said the first-ever
multi-centric public-private study of five non-communicable diseases (NCD) across all states.
Chronic respiratory diseases, which includes COPD (55 million) and asthma (37.9 million cases in 2016), were responsible for 10.9% of all deaths in 2016. COPD cases have almost doubled over the past 25 years.
It went from 28 million in 1990 to 55 million from 1990 to 2016. The study highlights the challenge before policy planners, although it can also be used to inform their decisions and focus. NCDs and injuries together led to 57–86% of healthy life years lost (disability-adjusted life-years, or DALYs, which is a composite metric of premature deaths and disability for monitoring disease burden) across all states in 2016, which is far more than the total loss to health and life from communicable diseases, infections, maternal, neonatal, and nutritional diseases.
There were regional variations. "One striking finding is that the rate of increase in the prevalence of ischaemic heart disease and diabetes is the highest in less developed states where the COPD and communicable diseases burden is already high and where health infrastructure is less than optimal," said Professor Lalit Dandona, director, India State-level Disease Burden Initiative, which reported overall trends for cardiovascular diseases, diabetes, chronic respiratory diseases, cancer, and suicide in India from 1990 to 2016 for every state in India.
Deaths from heart diseases and stroke almost doubled, going up from 15.2% of all deaths in 1990 to 28.1% in 2016. Diabetes accounted for 3.1% of all deaths, leading to more deaths among women (3.4%) than men (2.9%). The number of people with diabetes went up from 26 million in 1990 to 65 million in 2016, said the study, with the estimates being slightly lower than the International Diabetes Federation's estimates of 73 million for 2017.
Diabetes prevalence in adults who are 20 years and older increased from 5.5% to 7.7%, with every state registering an increase. Tamil Nadu, Kerala and Delhi showed the highest prevalence, but the highest rates of increase were in less developed states.
The proportional contribution of cancers to the total health loss in India has doubled from 1990 to 2016, but the incidence and types of cancers vary widely between the states. "Data guides public policy and will help in evidence-based planning in collaboration with the states for prevention, disease management and other services being provided under Health and Wellness Centres to strengthen comprehensive primary healthcare in each state," said Union health and family welfare minister JP Nadda.
Undiagnosed mental health disorders emerged as a growing concern, with suicides among women in India being 2.1 times than the global average. Suicides in women went up from 25.3% in 1990 to 36.6% in 2016, and among men, from 18.7% to 24.3%. "The findings show that NCDs or injuries do not follow similar trends among less developed states or among more developed states... The insights provided by these findings will be useful for the state-specific planning of Ayushman Bharat," said Dr Vinod K Paul, member (health), NITI Aayog.
A data gap is that only a small portion of the deaths in India have their cause medically certified, indicating that the cause of death reporting system in India has to be improved to enable more robust tracking of disease burden, said an accompanying editorial by Dr Balram Bhargava, director general, Indian Council of Medical Research, and Dr Paul.