Bawana bypoll: Why BJP lost this time after a string of victories in Delhi
In a blow to BJP's image after MCD election win, the party lost Bawana bypoll by a huge margin to AAP. Its vote share also went down by four percentage points as compared to 2015 assembly polls.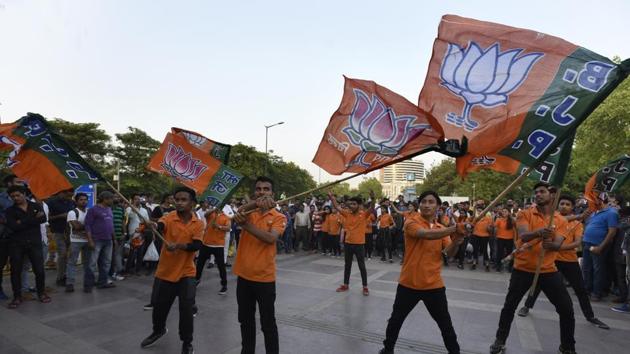 Updated on Aug 29, 2017 11:23 AM IST
Factionalism, wrong choice of candidate and fragmented campaign are some of the reasons cited for the Bharatiya Janata Party's (BJP's) defeat in the Bawana bypoll. Not only did the party lose the seat but its vote share also went down by four percentage points in comparison to the 2015 assembly elections.
BJP candidate Ved Parkash secured 35,834 votes, which is 27.16 per cent of the total votes polled. The party's vote share was 31.40 per cent and 46.72 per cent in 2015 and 2014, respectively.
Even in the municipal elections held in February, the BJP secured 53,830 votes (32.47 per cent) in six wards of Bawana assembly constituency.
The party's state leadership was stumped by the fact that the party could not take a lead even in a single round. It was trailing since the beginning of the counting.
The outcome is being seen as a big setback considering the party was on a roll till early this year scoring an impressive win in the municipal elections and Rajouri Garden bypoll. "Internal bickering in the party is to be blamed," said a party insider.
The source said that a section of the BJP in Delhi was not pleased with the way a senior leader managed ticket for turncoat Ved Parkash despite opposition from many quarters. Parkash had won the 2015 assembly election from Bawana on an AAP ticket. Days before the MCD polls in April, he switched over to the BJP.
"There was resistance to his candidature. Even a group of party workers from rural areas went to meet national president Amit Shah and registered their resentment. He is from Bawana village but does not enjoy good rapport with other villagers that is why Congress fared better in rural areas," said a district-level worker who was closely associated with the campaign.
Bawana bypoll: Kejriwal dares BJP to use VVPAT in every poll
Cracks in the party became apparent in the beginning when union minister Birendra Singh and West Delhi MP Parvesh Verma did not attend the event to mark the launch of the bypoll campaign. Verma's appointment as bypoll in-charge by the central leadership has also raised eyebrows in the party.
A state office bearer said mismanagement had begun with the filing of nomination and continued till the end of the campaign. "When Parkash along with Delhi BJP chief Manoj Tiwari and other senior leaders reached to submit his nomination papers, it was found that they were not in order. They had to wait for almost an hour till the complete set of documents arrived. He filed the nomination in the nick of time. This incident should have not been taken lightly as due to lack of supervision by senior and experienced leaders, nominations of six candidates were rejected during municipal elections," he said.
Another senior party functionary attributed BJP's poor show to a "disoriented campaign" by different groups and said the party failed to put a united face. "When the internal survey predicted third position, the electioneering was intensified by Tiwari. He spent a week in the constituency campaigning round-the-clock, especially in slums. But someone mischievously removed Tiwari and Amit Shah's pictures from the campaign posters. Only images of Prime Minister and Uttar Pradesh chief minister Yogi Aditynath with Parkash were used. This was the time when Gorakhpur tragedy had happened," he said adding that state leadership was clueless about whose directions led to the replacing of pictures.
Bawana election result 2017 Highlights: Kejriwal thanks Delhi for 'stamp of approval' after big win
Reacting to the development, Delhi BJP chief Manoj Tiwari said that as the 'captain of the ship', he was ready to accept defeat and he will look into the issues, which caused the loss. "I will convene a meeting of concerned officer-bearers in a couple of days to analyse the result. I will also seek reply in this regard. They need to explain how and why we failed to achieve the desired result," he said.
Tiwari said he would also apprise the senior leadership about issues, which marred the party's prospect in the byelection. "This is a serious matter therefore I have cancelled my scheduled foreign trip. I will submit a report to my superiors soon," he said.
Close Story