Cattle traders beaten up in Delhi: 'We were only six and they were 60-70, we thought we will die'
At least six men transporting buffaloes and calves were assaulted by members of a self-styled cow protection group in southwest Delhi on the suspicion that the animals were being taken to a slaughterhouse on Friday night.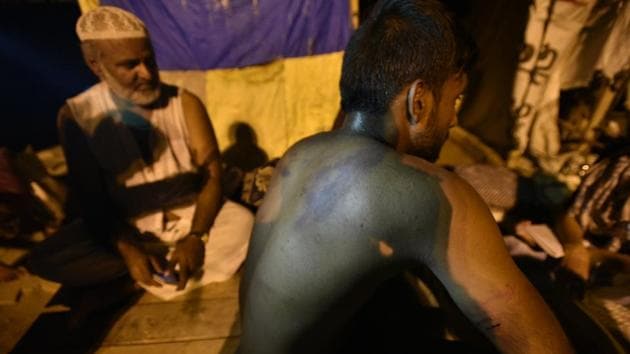 Updated on Jul 09, 2017 07:19 PM IST
His hand tied with a rope and body pinned to the ground, 25-year-old Shokin Ali begged for two hours to be let off.
But the mob of suspected cow vigilantes were in no mood to relent and kept beating him and five other cattle traders, who were transporting buffalo calves in Jharoda village in southwest Delhi.
Those two hours on a pitch dark Friday night will be etched in his memory forever as the night when he almost lost his life.
"At one point, I felt as if we will all be dead. We were only six and they were 60-70. They tied our hands and beat us with belts, sticks and whatever they could find. After two hours, the police came and rescued us. Some policemen were also roughed up but it is because of them that we are alive today," he said.
Shokin, along with his 22-year-old brother and a 15-year-old nephew, had bought 17 buffalo calves from Jhajjar, Haryana earlier in the day. They were going to take the cattle to Ghazipur to sell them.
That night Shokin and others took a detour and avoided the main road to save money as policemen allegedly asked for bribes for letting let them through.
Selling cattle is something Ali has been doing since childhood. Ali's father and grandfather did the same job for decades.
"I did the job for 30 years and my son has been doing it for many years now. But we have never faced this problem. I don't understand why this is happening now," said Shokin's father Ali Jaan, who doesn't remember his exact age.
Recalling the horror of the night, Shokin said his vehicle was still stopped by a policeman on a bike, who asked him for some money for letting him pass.
"By the time some people gathered there. I told the policeman to take us to the thana (police station) and not leave us there with the mob as I was scared. But he left," Shokin alleged.
Shokin's teenage nephew distinctly remembers the expletives hurled at him and his elder brothers. "Woh log chilla rahe the ki ye mulleh hai, paapi hai inko maaro (They were shouting that these are Muslims and sinners, beat them)," he said.
But Shokin and his family maintain that they only transport buffalo or its calves which are sold by villagers in Haryana.
"How is it a sin? If people don't sell these animals to us, then we won't buy them. People selling buffaloes to us are both Hindus and Muslims," said Ali Jaan.
Sitting on a cot in his house in a southwest Delhi slum, Shokin said he is scared but may go back to his job .
"I have not done anything wrong so why should I stop. Yes, I am scared like the others. But what other option do we have? We are poor people," he said.
Shokin's sentiments are echoed in many others in the area, where it is business as usual with people loading buffaloes in vehicles.
Close Story