CBSE results 2017: 88% of Delhi students clear 12th board exams
Jul 02, 2017 05:12 PM IST
The much-awaited CBSE class 12 results were declared on Sunday. Delhi docked a pass percentage of over 88% which was higher than the national pass percentage of 82%.
Lazy Sunday mornings went for a toss this week, as many teenagers, their parents, and sometimes even their neighbours were seen anxiously awaiting their CBSE 12 board results. In the national capital more than 88% of the students who appeared for the exams passed this year.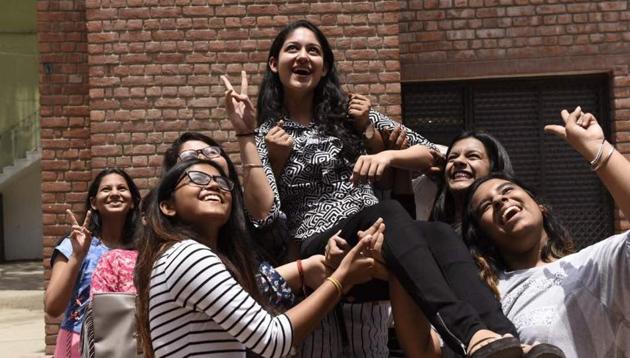 The pass percentage for the 12th board exams in Delhi this year, 88.37%, is higher than the national pass percentage of 82%. Delhi seems to have improved on its performance of last year when the past percentage for the capital was 87.01%.
With the all-India topper, Raksha Gopal, a student of Amity International School in Noida, scoring a 99.6%, the fears over moderation policy seems to have been quelled.
Shivangi Sharma, a student of Ryan International School in Delhi, said she was happy about the 97% that she scored this year. "Moderation seemed to have worked very well, at least for me," she said.
However, there were a few who were not wholly satisfied with their results. "I was shocked by how low I had scored in English. I got an 85, whereas I had scored above 95 in my pre-boards," said Moksh Kalra, from Cambridge School, Noida.
Kalra is one of the few who are not in favour of the moderation policy, which was re-introduced after the Delhi High Court intervened. "It is a harmful and unfair practice. It does not create a level playing field. It is a disincentive to hard work," he said.
In times, when scores above 90 seem to be the norm, there were a few who managed average scores. "I am very disappointed. My papers had gone well, but I was shocked to see that I got a 70%. My parents are not talking to me. I don't know what to do," said a student.
(With inputs from Dhwani Kachru and Aashna Kapoor)
"Exciting news! Hindustan Times is now on WhatsApp Channels
Subscribe today by clicking the link and stay updated with the latest news!"
Click here!