Delhi air quality turns 'very poor' again, minimum temp falls below 10
Updated on Nov 21, 2017 07:31 AM IST
CPCB's National Air Quality Index had Delhi in the 'very poor' zone with a score of 326. It was in the 'poor' level the past two days.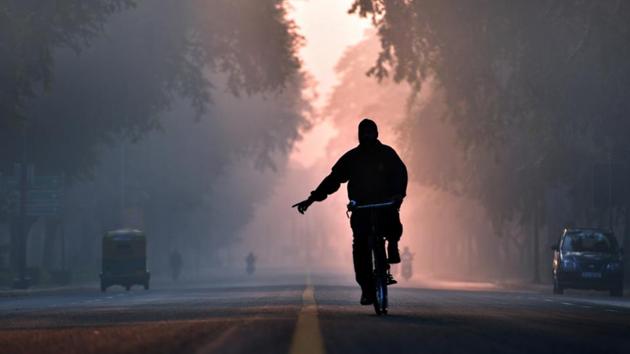 Hindustan Times |
HT Correspondent
Delhi's air got fouler on Monday with the air quality index (AQI) moving above 300 in the 'very poor' level.
The Central Pollution Control Board's (CPCB) National Air Quality Index had Delhi in the "very poor" zone with a score of 326. It was 292 on Sunday and 298 on Saturday, both days in "poor" levels.
Weather wise, it was the coldest this season. The maximum temperature on Monday clocked 24.4, three degrees below what is normal this time of the year, while the minimum stood at 9.4 degrees, three notches below normal, a Met official said. This was the coldest day yet this season.
According to CPCB air laboratory chief Dipankar Saha, the impact of rain in Delhi and surrounding areas flushing out pollutants ebbed and as more vehicles hit the streets on the first working day of the week, the pollution levels started to rise again.
"This rise in pollution on Monday is because of slow wind speed and local emission. From Friday to Sunday, apart from the rain in Delhi and its surrounding areas, north and south winds were helping the air quality," Saha said.
Forecasts say the city's air quality will remain in the "very poor" category and there are chances of it deteriorating further in the next couple of days. However, it is not expected to reach "severe" levels again as the entry of pollutants from external sources has stopped.
"The impact of the weekend rain is slowly diminishing. Temperature levels have dropped and moisture has marginally increased. Surface winds have become slower. The current air quality is a play of those meteorological conditions and emissions from internal sources," System of Air Quality And Weather Forecasting And Research (SAFAR) project director Gufran Beig said.
He said the level of pollutants would show some increase over the next two days but air quality was not likely to turn "severe" in the AQI scale.
On Tuesday, expect a pleasant day with mainly clear sky. In the morning, mist is expected. The maximum and minimum temperature are expected stay at 24 and 10 degrees, a Met official said.
Personalise your news feed. Follow trending topics