Delhi-NCR could face its first cracker-less Diwali due to poor air quality
The Supreme Court on Wednesday reiterated for the third time in eight days that only 'green firecrackers' can be sold and burst in the national capital region in order to curb rising pollution that chokes the city every winter.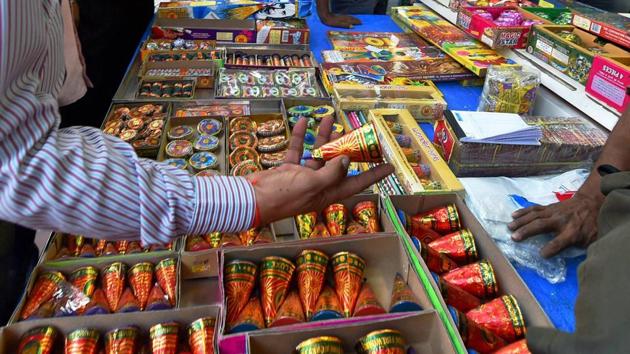 Updated on Nov 01, 2018 07:34 AM IST
HIndustan Times, New Delhi |
, New Delhi
HT Correspondents
If the Supreme Court order is followed in letter and spirit, bursting any firecracker in Delhi may be illegal this Diwali.
The top court on Wednesday reiterated for the third time in eight days that only 'green firecrackers' can be sold and burst in the national capital region in order to curb rising pollution that chokes the city every winter. Petitioners, officials and experts say this effectively bans fireworks since firecrackers classified as 'green' or even 'low emission' as are yet to be manufactured and sold.
According to a 2017 affidavit to the top court and explanations offered by the country's explosives regulator, green firecrackers would refer to products that do not contain metals such as barium, aluminium and iron which create toxic gases – but such products are largely in development stage and not sold in markets at present.
"There are no such 'green crackers' or low-emission crackers in the market yet as mandated by the apex court. Those available in markets now are traditional fireworks that emit heavy pollution. They all have metals like barium, aluminium and strontium which trigger toxic fumes," said an official of the Central Pollution Control Board (CPCB) who asked not to be named.
Traders say that the top court's order has confused them because the directive effectively means no firecracker can be sold or burst in the region.
On Wednesday, traders led by senior advocate Ranjit Kumar urged the top court to allow them to sell existing stocks that do not classify as 'green' firecrackers. If the order is not modified, it will amount to a complete ban on fireworks this Diwali in Delhi-NCR, Kumar told the judges, who denied the request.
A spokesperson of the Delhi Police, which is responsible for enforcing the order, said they are still to determine which products can be sold. "We are getting in touch with Peso (Petroleum and Explosives Safety Organisation) to check which crackers could be allowed this Diwali. What we are certain of is that 'ladi' (a series of bursts) and firecrackers containing harmful metals won't be allowed," said Madhur Verma.
The Supreme Court has said that local police station in-charge will be held responsible for violations of its order.
An official from Peso, the government authority that regulates all explosive and explosive manufacturing material in the country, said there was no classification such as 'green' firecrackers. "We are hearing such terminology for the first time in the wake of Supreme Court directives. Now we will work with the Nagpur-based national environmental institute, NEERI, for developing [fireworks] and guidelines for such firecrackers in coming days," said JN Mishra, deputy controller, Peso.
Fireworks that burst in colours, particularly red and green, create more pollution, he explained. "Peso has so far not given anyone licence to manufacture green crackers," he said.
The 'green' order was first delivered by the top court on October 23, when it laid down a specific restriction for the national capital region considering the air quality crisis that has become typical for this time of the year. Last year, the sale of firecrackers was banned but people who brought them from outside – irrespective of the type – were free to use them.
Pollution in Delhi and its satellite towns hit the 'severe' level on Tuesday after a spurt in farm fires in Punjab and a drop-off in wind speeds that stopped local dust and vehicular emissions from being dispersed.
According to a second official from the CPCB, which receives air quality and weather outlook from the India Meteorological Department, air quality will return to severe levels from Saturday after it relented to 'very poor' on Wednesday.
Pollution is likely to peak around Diwali, particularly due to crop residue burning in Punjab where farmers routinely carry out the practice in order to turn their fields around for sowing the next round of crops. This year, they have a smaller window since the harvest may have been later than usual as sowing had been delayed.
Union minister Harsh Vardhan said on Monday that a new range of green firecrackers was being prepared in some government laboratories. These, however, won't be available this Diwali, he added.
Trader bodies said the ban on conventional fireworks will lead to significant losses. "According to estimates, firecrackers worth about ₹500 crores are lying as stocks in Delhi-NCR. What will happen to such stock?" said Praveen Khandelwal, secretary general of the Confederation Of All India Traders.
Wholesale traders, who run on permanent licenses, said police have already shut shops that were selling traditional and conventional fireworks.
(With inputs from HTC in Nagpur)
Close Story