Delhi-NCR ranks worst in vehicular pollution: Study
Delhi has to work towards improving its roads and integrating transport and traffic management, suggest experts.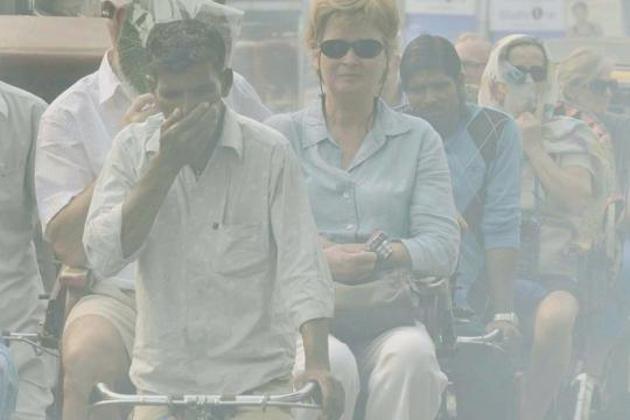 Updated on Aug 25, 2018 06:13 AM IST
New Delhi |
HT Correspondent
The National Capital has been ranked last among 14 cities of India on the basis of vehicular emissions in a survey. This despite the fact that Delhi uses CNG — a cleaner fuel — for its public transport system and has a relatively higher share of public transport ridership.
The ranking was done on the basis of a study conducted by the Centre for Science and Environment (CSE) — a Delhi-based research organisation to assess transport-related emissions from urban commuting.
"Delhi ranks the worst in terms of overall toxic emissions, heat-trapping emission and energy consumption. This is despite the fact that most of its parameters — such as average trip length and public transport share — are better than other megacities, the study stated.
The study found that the major factors behind the abysmal ranking of Delhi include high volume of vehicles and relatively higher population than other cities. Delhi's population in 2017 was 1.25 times that of Mumbai, 2.5 times that of Bengaluru, 1.8 times that of Kolkata, 2.9 times that of Hyderabad and 2.6 times that of Chennai.
"This is Delhi's paradox. Even though the city has done well in some aspects of urban commute, such as per-trip emissions, those efforts have been negated by the high magnitude of population and number of vehicles. Delhi has the highest vehicle stock, which is dominated by personal vehicles and a relatively high population," said Anumita Roychowdhury, executive director, research and advocacy.
A 2016 study by IIT-Kanpur had found that vehicular emissions contribute to around 9% of the PM10 load in Delhi and around 20%of the PM2.5 load. A study by TERI and ARAI earlier this month found that the contribution of vehicular emissions in Delhi's air could go up to 30% if secondary particles are taken into account.
The CSE study — titled The Urban Commute and How it Contributed to Pollution and Energy Consumption — ranks cities on emissions of heat-trapping carbon dioxide and toxic pollutants like particulate matter and nitrogen oxides, as well as energy guzzling from urban commuting. It classified six urban agglomerations — Delhi, Mumbai, Kolkata, Hyderabad, Bengaluru and Chennai — as megacities and Bhopal, Vijaywada, Lucknow, Jaipur, Chandigarh, Kochi, Pune, Ahmedabad as metro cities. Bhopal was ranked the best for its lowest overall vehicular emission and fuel consumption, followed by Vijaywada and Chandigarh. Kolkata and Mumbai was ranked 7th and 10th on the list, respectively.
According to Dipankar Saha, former head of the Central Pollution Control Board's (CPCB) air quality lab, Delhi has big achievements to its credit, including using of CNG and scrapping of old vehicles. However, it can do better in terms of emissions by having a robust public transport and traffic management system.
"The emissions, such as CO2, is released due to unburnt hydrocarbons. This happens because of various factors such as vehicle speed not being maintained, overloaded heavy-duty vehicles, poor roads and poor management of traffic. Delhi has to work toward improving its roads and integrating transport and traffic management," Saha said.
Close Story