Delhi railway stations unsafe: Audit finds gaping holes in security measures
Updated on Aug 20, 2018 10:21 AM IST
Senior police officers familiar with the matter said the audit was conducted ahead of Independence Day last week to assess the anti-terror capabilities at railway stations.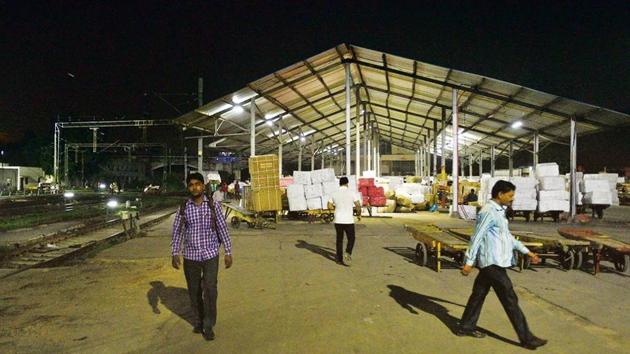 Hindustan Times, New Delhi |
Anvit Srivastava
A recent security audit conducted by the Delhi Police found glaring loopholes in the security apparatus at all major railway stations in Delhi including the four major stations in the Capital — New Delhi, Old Delhi, Nizamuddin and Anand Vihar.
The confidential audit report accessed by Hindustan Times states that parcel areas at these stations were particularly vulnerable as goods transported in passenger trains are neither verified nor scanned to ensure passenger security. The report mentions, "It (security loopholes) may lead to mass casualty including blasts, if any terrorist organisation plants explosive in any of the parcels."
Senior police officers familiar with the matter said the audit was conducted ahead of Independence Day last week to assess the anti-terror capabilities at railway stations. They said the audit was ordered after a series of threats were conveyed to the police by intelligence agencies stating railway stations as targets.
The audit found that the main parcel area at the New Delhi Railway Station "remains open" and people can enter the station through this area without any checking or frisking.
Similarly, unauthorised persons can easily sneak into Hazrat Nizamuddin Railway Station from its parcel area.
The report added that parcel gates at other stations like Sarai Rohilla, Kishan Ganj, Daya Basti and Nangloi remain open and passengers as well as porters enter the stations from there unchecked.
It suggests that Railways need to evolve some mechanism to check a parcel with proper equipment before its transportation.
Retired IPS officer, Ashok Chand, who served in Delhi's anti-terror unit for seven years, said such loopholes put hundreds of lives at risk and are a cause for major concern.
"I don't think parcels that are transported through trains are scanned at the source stations. This means we do not know what is inside these packages. Keeping in mind the volume of business the Railways does, carrying such parcels in passenger trains is putting hundreds of lives at risk. This can cause a tragedy and it must be a major a concern for authorities," Chand said.
Deputy commissioner of police (railways) Dinesh Gupta said "certain shortcomings" were found in the audit and the concerned authorities have been intimated.
"I cannot share the details of laxity in our security setup, but adequate measures are being taken to strengthen it further," DCP Gupta said.
Apart from the parcel areas, the security audit said a number of unauthorised entry and exit points at several stations remain unmanned.
At Hazrat Nizamuddin Railway Station, the report states that unchecked people can easily enter platforms 7 and 8 from a damaged wall the station shares with the adjacent Indraprastha Park. It adds that the station's parking lot does not have a proper boundary wall which means people walking on the street have access to vehicles parked there.
Meanwhile at the New Delhi Railway Station, the north side gate at Platform One remains unmanned and is commonly used by passengers to enter platforms.
At the Pul Bangash station, the boundary wall has been damaged and the space is being used by people to enter the platforms without any frisking or scanning of luggage.
No CCTVs at many stations
The report mentions that baggage scanners at New Delhi Railway Station are not covered with CCTV cameras, while the X-ray scanners at Old Delhi Railway Station were also not functioning properly.
At stations such as Sabzi Mandi, Azadpur, Adarsh Nagar, Holambi Kalan and Narela, there are no CCTV cameras installed. Exit and entry gates and even the parcel areas at Anand Vihar Railway Station also do not have adequate CCTV cameras installed.
Senior railway officers said stations and trains are open targets for terror attacks. "One can board a train from any stations or at any halt point and reach a busy station. It is not easy to prevent such an act," the officer said, requesting anonymity.
Divisional railway manager (DRM) of the Northern Railway's Delhi Division, RN Singh said, that manpower and resources remain the biggest challenge. "We have the basic security checks in place. There is no laxity when it comes to passenger safety. However, our setup is not of the highest level. You cannot compare it to security at airports. Recently we got the sanction to install face recognition cameras at the major stations and the work is under progress," he said.