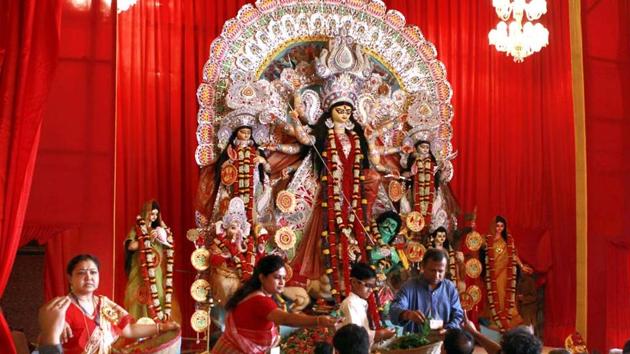 Delhi's CR Park gears up for Durga Puja: 5 things to know if you plan to visit
With preparations on for Durga Puja festivities in CR Park, MLA Saurabh Bhardwaj said traffic restrictions will be put in place to manage the rush of devotees.
UPDATED ON SEP 20, 2017 02:36 PM IST
Chittaranjan Park, home to a large Bengali population, is likely to be visited by lakhs of revellers in the four days of Durga Puja next week. Unsuspecting visitors often get stuck in massive traffic jams during the festival season only to face a roadblock just before the colony. If you are planing to visit the colony around that time, it is best not to take your car. Here is how the area is gearing up to handle festival rush:
1. Traffic Police will put up restrictions, like it has in the past few years. Cars will not be allowed entry in the colony in afternoon of the Puja days. Only residents will be issued special passes for their vehicles, AAP spokesperson and local MLA Saurabh Bharadwaj said. "At Greater Kailash II and at other entry points of Chittaranjan Park, traffic will be stopped for outsiders. People will have to park their vehicles there or at Nehru Place and then walk to the different venues," Bharadwaj told Hindustan Times.
2. According to Bharadwaj, residents will be issued special passes by the RWAs for their cars and two-wheelers. He said according to Bharadwaj, the city government has made all necessary arrangements for a smooth festival this year at Chittaranjan Park and he has taken meetings with police, traffic police and all agencies concerned. There are 12 Durga pujas organised in CR Park and neighbouring areas such as, Greater Kailash I and II and Alaknanda.
3. Every year, traffic police advises commuters to avoid Outer Ring Road as well as stretches near CR Park and Greater Kailash due to the large number of devotees flocking to these areas. As a ripple effect, traffic jams are reported from East of Kailash, Kailash Colony, towards Modi Mill, Ashram and Moolchand during the Puja days.
4. Two fire tenders have been allotted by the Delhi government and will be stationed in the area to cater to any emergency if required. The health department will put up a kiosk at each Puja venue with a doctor and a paramedic present to cater to any medical emergency of the revelers. Apart from these, six CATS ambulances will also be deployed.
5. The Delhi Urban Shelter Improvement Board is also providing four-seater mobile toilets at every Puja venue. "These should help as some visitors relieve themselves at any available space due to lack of option. This becomes a major nuisance," the Greater Kailash MLA said.
Close