Delhi traders beat ban with polybags stamped 'approved'
The ban on the thin carry-bags was announced in August, 2017 by the National Green Tribunal, which ordered government and civic agencies to ensure strict implementation.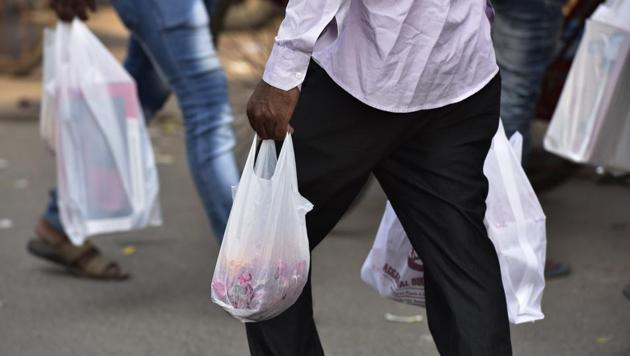 Updated on Sep 02, 2018 09:40 AM IST
New Delhi |
Joydeep Thakur and Vibha Sharma
Polythene carry-bags with fake 'approved' stamps are increasingly being found in Delhi's markets, civic authorities have said, fearing that manufacturers and retailers are cheating stringent new rules that are meant to combat the decades-old problem of plastic pollution by outlawing bags thinner than 50 microns.
Officials in East Delhi Municipal Corporation said in several of their raids on shopkeepers, they came across bags with blue stamps mentioning the thickness to be more than 50 microns, but a measurement showed them to be thinner.
Plastic bags are regarded as the biggest challenge to waste management since their use is ubiquitous and destruction near impossible. Bags less than 50 microns thick — roughly as thick as a human hair -- are harder to recycle and separate from trash, and they often end up clogging sewage lines and being consumed by stray cattle.
Some traders said they were themselves fooled into acquiring banned bags by manufacturers. "We are aware that plastic bags less than 50 microns are banned in Delhi. Hence we asked our supplier for bags more than 51 microns. We got bags with the word 'approved' stamped on it but when civic officials came and measured them, they were found to be less than 50 microns. We were slapped a penalty of Rs 5,000," said a shopkeeper in an East Delhi locality, asking not to be identified.
Officials do not keep a record of how many bags were carrying the misleading stamps, but the total seizure of illegal carry-bags by the three municipal corporations – East, South and North – has exceeded 30,000 kilos this year.
The ban on the thin carry-bags was announced in August, 2017 by the National Green Tribunal, which ordered government and civic agencies to ensure strict implementation.
"EDMC is continuing its anti-polythene bag drive. During inspections in shops and local markets, we found bags measuring 40 micron in thickness but claiming to be over 1 microns," said ML Sharma, assistant commissioner of Shahdara south of East Delhi Municipal Corporation.
Similar seizures were also confirmed by Dilip Ramnani, director department of environment management services in South Delhi Municipal Corporation.
Experts said such cheating was expected. "Such things are bound to happen and we had warned it long back when the ban was imposed. The civic agencies would face a huge challenge if they need to visit each and every shop and measure the bags being used. The only solution, as we had earlier suggested, is to put a blanket ban on single-use plastic bags," said Chitra Mukherjee, head of programme, Chintan – a Delhi-based environment advocacy group.
"This is alarming. Nobody had probably taken this dimension of the problem into account. If the problem continues then the entire effort to do away with bags less than 50 microns would become futile," said Ravi Agarwal, founder-director of Toxics Link, another environmental NGO.
A senior official of the Delhi Pollution Control Committee said that officials carried out inspections in polythene bag manufacturing units in the capital but did not find such fake bags. "They could be coming from outside," he added.
DPCC officials also said that the Delhi government had proposed a blanket ban on plastic and polythene bags, but it was challenged by the plastic manufactures in the court.
A representative of a union of plastic manufacturers and traders said all members had been urged to comply with the NGT's orders. "If any manufacturer is making bags with fake stamps, it is his responsibility. But we don't have any such information that manufactures in Delhi are into such practices," said Rajesh Mittal member of Plastic Manufacturers and Traders Association in Delhi.
Close Story