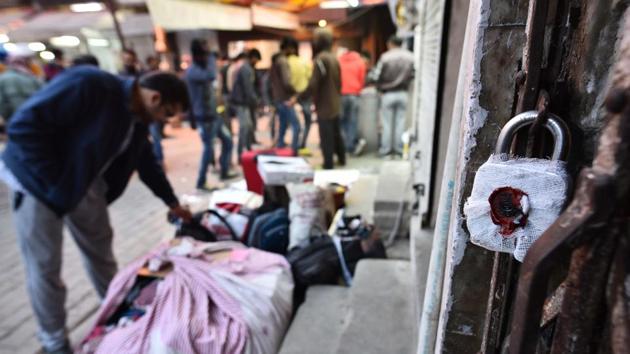 Delhi traders to decide future course of action on sealing after final notification
City traders are upbeat about the proposed changes in Master Plan 2021, which is expected to provide relief from the ongoing sealing drive. The community will, however, wait for the final notification
PUBLISHED ON FEB 26, 2018 11:50 PM IST
New Delhi: City traders are upbeat about the proposed changes in Master Plan 2021, which is expected to provide relief from the ongoing sealing drive. The community will, however, wait for the final notification before deciding the future course of protests.
"From the face of it, there are some positive signs in the announcements. Let's see how much of it is finally approved by the Delhi Development Authority in the meeting on Tuesday. Then we will decide our future course of action," said Praveen Khandelwal, general secretary of Confederation of All India Traders (CAIT) that claims to have 2,200 market associations as its members.
Union minister of state (independent charge) housing and urban affairs Hardeep Singh Puri said on Monday that the authority has proposed many changes — including uniform floor area ratio, permission for commercial use of basement, no conversion charges after 10 years among other suggestions to amend the Master Plan 2021 — as a step to end the ongoing sealing drive in city markets. The DDA board will meet on Tuesday under the presidentship of lieutenant-governor Anil Baijal to approve these recommendations.
CAIT has not called off its protest calendar yet. "Symbolic effigies of sealing will be burnt at more than 100 places in Delhi on February 28. There will be car rallies across the city on March 4. We will cancel these events only after we see the final changes in the Master Plan 2021," said Khandelwal.
Supervised by a Supreme Court-monitored committee, officials of three municipal corporations of Delhi are sealing shops and restaurants across markets of Delhi for either misusing residential premises for commercial purposes or for unauthorised constructions since December 15 last year. This triggered large-scale protests by traders.
Another association, the Chamber of Trade and Industry (CTI), which is affiliated with Aam Aadmi Party and claims to have over 1,000 association under its umbrella, also said it will decide its future course of action only after reading the blueprint of the amendments.
"Chief minister Arvind Kejriwal had been long demanding amendments in Delhi Master Plan 2021. Let's see what changes they make," said Brijesh Goyal, convener of CTI.
Close