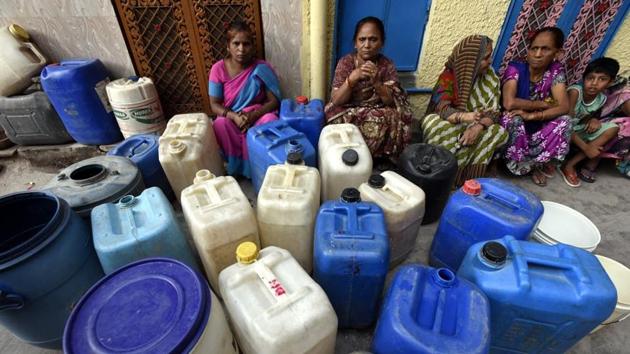 Delhi water tariff hiked by 20% for consumption above 20000 litres, effective from Feb 1
This is the second time that the AAP government, which came to power in Delhi in 2015 with the promise of free water and electricity, has hiked the water tariff.
Hindustan Times, Delhi | By Ritam Halder and Ashish Mishra
UPDATED ON DEC 26, 2017 10:46 PM IST
The Delhi Jal Board on Tuesday hiked water tariff by 20% for residents using more than 20,000 litres a month. The revised tariff will come into effect from February 1 next year.
At present, domestic users consuming between 20,000 and 30,000 litres of water a month pay a service charge of Rs 219.62 and a volumetric charge of Rs 21.97 for each 1,000 litres. The 20% hike is on the volumetric charge, which will be Rs 26.36 from February.
Those using more than 30,000 litres a month are paying Rs 292.82 as service charge and Rs 36.61 per 1,000 litres. This now becomes Rs 43.93 for a kilolitre.
This will be the second water tariff hike since the Aam Aadmi Party came to power in Delhi in 2015. The revision happens three months after chief minister Arvind Kejriwal took over the water portfolio.
But the government, keeping to its pre-poll promise, decided to retain the policy of giving 20,000 litres of water free of charge every month to each household. Around 87% of households in the DJB network use water within that ceiling, according to the board.
The sewer maintenance fee, which is 60% of the volumetric charge, will also be increased.
If a consumer uses 25,000 litres of water, he will pay Rs 219.62 as service price, Rs 659 as the volumetric charge and Rs 395 as sewer maintenance fee. So the total bill will come to around Rs 1,273.
The bill calculated with previous rates would be around Rs 1,098 for that consumer, with Rs 549 as volumetric charge and Rs 329.5 for sewer maintenance.
Commercial users will also have to pay the 20% hike in volumetric charge.
The decision follows the board's plans to augment its revenues, which took a hit because of the goods and services tax on various projects and salary hike for employees under the 7th Pay Commission recommendations.
"For example, earlier pipes were exempted from tax. Now with GST, the cost of pipes has gone up. We also have to implement the 7th Pay Commission and pay salary hikes to employees," said DJB vice chairman Dinesh Mohania, who described the raised tariff as "very nominal".
According to officials, the DJB faced a revenue loss of Rs 516 crore in 2016-2017 and Rs 209 crore in the previous fiscal.
In 2015, water tariff was hiked by 10% for people using over 20,000 litres as the AAP government continued a policy initiated by the Sheila Dikshit-led Congress government in 2009. The policy of automatic 10% hike every year was abolished in 2016.
Close