Arvind Kejriwal calls Delhi a 'gas chamber' as air pollution hits severe levels, no respite in sight
Updated on Nov 07, 2017 04:49 PM IST
This is the second time Delhi has hit severe pollution level since Diwali — the first was on October 20.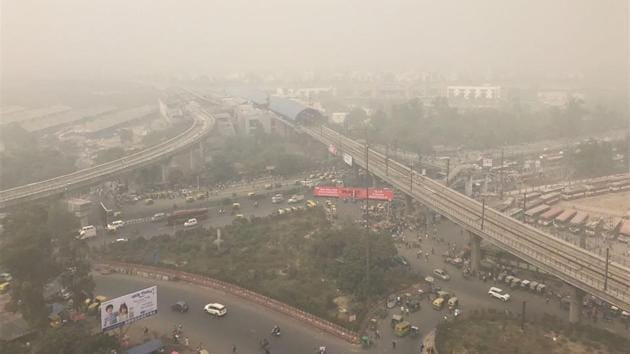 Hindustan Times, New Delhi |
HT Correspondents
Pollution levels spiked to severe levels in Delhi with thick haze blanketing the city on Tuesday, reducing visibility drastically and affecting flights and trains, prompting chief minister Arvind Kejriwal to describe the national capital as a "gas chamber".
The air quality index (AQI) – a measure of the level of pollutants in the air – shot past 400 in many places in Delhi by 9.30 am, the second time since Diwali and potentially signalled the start of Delhi's notoriously toxic winter.
The Indian Medical Association (IMA) also issued a stern warning on potential health hazards, describing Delhi as a "public health emergency state" and asking authorities to shut schools as a precautionary measure.
Officials at the weather department said the weather was expected to remain cloudy for the next two to three days and the temperature to fall further, suggesting any immediate respite from the prevailing conditions was unlikely.
Chief minister Kejriwal said he had requested education minister Manish Sisodia to 'consider closing schools for a few days'. "Delhi has become a gas chamber. Every year this happens during this part of year. We have to find a solution to crop burning in adjoining states," Kejriwal tweeted as AQI measurements indicated presence of tiny particulate matter (PM) that can penetrate deep into human lungs and cause severe respiratory problems.
Despite a ban, farmers in Punjab, Haryana, Rajasthan and Uttar Pradesh burn crop residue in this time of the year, leading to toxic smoke to engulf vast areas of north India including Delhi.
Lack of wind speed also leads to the smoke cover settling down over the city for days, which had led to one of the worst periods of smog in decades last year.
Airport officials said at least seven flights were delayed while one flight from Lucknow was diverted to Jaipur.
Train operations were also impacted, as 33 inbound trains were delayed by three hours or more. "Most of these trains were coming in from the east," said a Indian Railways spokesperson.
According to Met officials, runway visibility dropped to around 400m at 8am in the morning but later improved to around 425-725m at 10.30am.
While people on social media described the haze as smog, a combination of fog and smoke, a met official denied it.
"Pollution can be there but if there is no smoke, then the phenomenon is fog. We don't smoke now...," said RP Lal, a scientist at the regional weather forecasting centre.
According to the Central Pollution Control Board, monitoring stations in Delhi-NCR recorded AQIs as high as 446 at 9.30am. Out of 19 monitoring stations in NCR, 12 recorded severe air quality. The lowest AQI was in Gurgaon at 357 at 9.30am, which is classified as very poor.
Areas close to Shadipur in west Delhi, had the worst air quality at 9.30am, with an AQI of 446. The primary pollutant here was PM2.5, which is considered a finer and more dangerous pollutant.
Anand Vihar area, which is usually highly polluted, also had severe air quality with an AQI of 405. However, the primary pollutant here was PM10.
The India Meteorological Department (IMD) said visibility in the capital was at 200m around 5.30am on Tuesday. In Noida, AQI was 430 at 9.30am.
Low visibility city resulted in slow traffic with long queues seen on the Delhi-Noida-Delhi Flyway and Noida-Greater Noida expressway during the rush hour .
"It usually takes me 20 minutes to cover the DND but today, I drove for 45 minutes today," said Dhruv Gupta, a Jangpura-based IT professional.
Noida traffic police said that traffic congestion was mainly near the Noida Gate and Sector 16 A flyover. "Due to low visibility, there was traffic congestion. However, we are trying to clear roads as soon as possible," said Layak Singh, traffic inspector, Noida Police.
In Gurgaon too, morning smog created problems for commuters due to low visibility.
The weather, however, brought down the temperature considerably. The minimum temperature was 17 degrees Celsius on Tuesday which was 2 degree less compared to Monday.