How disabled-friendly are Delhi markets?
An SDMC official said renovation work is still going on at Delhi's New Friends Colony market and will take another six months to complete. "There is a detailed project, costing Rs 1.5 crore for beautification of the whole market and to make it disabled-friendly," the official said.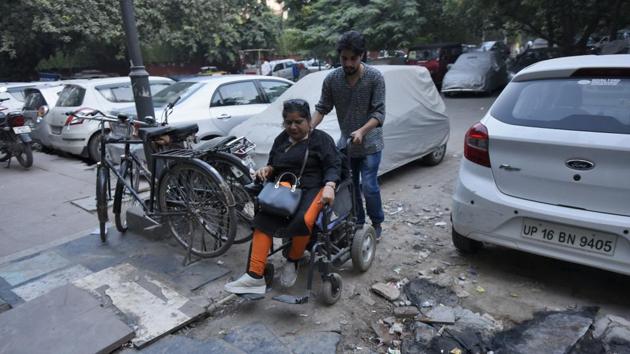 Updated on Nov 13, 2018 09:15 AM IST
Meenu Arora Manuel was diagnosed with cerebral palsy at birth, which has kept her wheelchair-bound for life. After battling 40 years of low confidence and inconvenience, Meenu said she gathered the courage to visit Sarojini Nagar market for the first time in 2010. Her husband insisted that they brave the crowds to experience the "thrill of shopping" that every woman boasted of.
But she said her experience that day only strengthened her inhibitions - Delhi remained "hostile" to differently-abled people.
"Neither the market nor the shops there had proper ramps for wheelchairs. Thankfully, we took a friend along, who did our shopping for us while we waited in corridors," said Meenu, a resident of Arjun Nagar.
"The lack of infrastructure and the uncooperative attitude of people towards our requirements discourage me from stepping out in markets again," she said.
In 2016, the South Delhi Municipal Corporation (SDMC) had announced it would make eight popular markets "disabled-friendly".
The markets chosen for the revamp were the New Friends Colony Community Centre, Green Park B-6 block market, Greater Kailash-1 M-Block market, H-block Sarita Vihar, Hauz Khas Market, Saket J-block market, Punjabi Bagh Central Market and Vikaspuri's PVR Shopping Complex.
Two years after the project was announced, Hindustan Times visited four of these markets with two differently-abled persons and their attendants. HT got in touch with Meenu and her husband Samuel Mani, also wheelchair-bound due to the same condition, with the help of an NGO, 'Svayam - National Centre for Inclusive Environment'. The couple visited four markets - GK-1 M-block, New Friends Colony, Hauz Khas and Green Park -to see how 'disabled-friendly' the markets have become.
GK- I M Block
Approaching the GK-I M-Block market from the parking, Samuel pointed out that the pedestrian walkway had no ramps which would allow a wheelchair-bound person to enter the market. As a result, he had to move on his motorised wheelchair on the main road beside fast-moving vehicles.
"Even if I climb the walkway with someone's help, it would be difficult to commute due to several obstacles like utility poles, benches and construction material dumped in the middle of the walkway," Samuel said.
Shopkeepers shared a similar story. "Even the corridors constructed in front of our shops have no ramps. This corridor is at least two feet above ground level.
"This means that even if a differently-abled person manages to enter the market, they will still find it difficult to access shops," said a shopkeeper, who did not wish to be identified.
SDMC officials, however, said that "over 50%" of redevelopment work here is complete, including levelling of uneven corridors outside shops and construction of ramps and walkways near parking areas.
"We have already levelled the surface in front of shops and rest of the points will be taken care of in future," said a senior official privy with the project, on the condition of anonymity.
Before implementing the project, SDMC had conducted a study through Samarthyam - a disability rights organisation.
Anjali Agarwal, the founder of Samarthyam, said, "We carried inspection of this market and accordingly suggested 'accessibility standards' to be followed. We also suggested for mitigating hurdles such as steps in front of shops and corridor, using ramps with gradient and tactile tiles. But I doubt that all these standards are actually fulfilled."
New Friends Colony
The NFC community market was dug up at many places for renovation work, making it difficult for the couple's mobility.
Meenu wanted to use a washroom constructed by the civic agency in the market. "There is a ramp with a slope to allow access for public convenience, but it has no grills or tactile tiles. This increases the risk of someone falling down. The entrance of the toilet is also too narrow to allow the entry of my motorised wheelchair, which is even smaller than a manual wheelchair," she said.
"Inside the toilet, there are no support rails or grills to help us use the facility. This shows the effort taken by the authorities to understand our needs," she said.
An SDMC official said renovation work is still going on at the market and will take another six months to complete. "There is a detailed project, costing Rs 1.5 crore for beautification of the whole market and to make it disabled-friendly," the official said.
Moving ahead, Meenu pointed out bollards installed in the middle of a corridor, probably to restrict entry of a vehicle. "The bollards installed in the middle of the corridor shows poor planning. In the given circumstances, either we need to take a detour or drop the idea of going to this section entirely," she said.
SDMC mayor Narendra Chawla said, "There might be shortcomings in the project, but we are concerned about all section of people and their requirements. I will soon visit these markets along with deputy commissioners to understand any shortcomings and quality of work done."
Hauz Khaz Market
On entering the market, Samuel expressed satisfaction on seeing wide sidewalks with ramps constructed at many places. His happiness, however, didn't last long. The ramps had no gradient and were "too narrow" to allow safe access to the sidewalk. Broken roads, encroachment and randomly parked vehicles in front of the ramps made things even more difficult.
Sminu Jindal, founder of 'Svayam', said that the key issue is that such projects are "implemented in isolation".
"The problem is that the term 'accessibility' is often perceived to be associated with 'disability' in India, but the fact is, even a pregnant woman, old-age person and child need safe access to market," Jindal said.
Green Park Market
At Green Park, with uneven sidewalks and vehicles parked on them at many places, things were not much different for Meenu and Samuel. They were unable to enter most shops at the market. "In Delhi, almost every second shop is located on top of a flight of stairs. Why can't they think that their buyers can be a person with some disability?" Meenu said.
Anjali Agarwal said that despite the SDMC consulting her organisation for developing disabled friendly parking lots, things didn't change on the ground.
"After discussion, the civic agency erected signage in the parking area by earmarking places for differently-abled people. But the parking spaces are still used by everyone because neither the parking attendant nor the drivers know the relevance of these signs," she said.
Close Story