DUSU 2017: Clash of ideologies on campus as Delhi University goes to polls
Hindustan Times |
Abhinav Rajput and A Mariyam Alavi
Sep 12, 2017 10:33 AM IST
Morning students will vote from 8.30am to 1pm while evening students will vote from 3pm to 7.30pm. This year in Delhi University elections, ABVP and AISA are set for a face-off over campus violence, which, many say, could benefit NSUI.
Polling began in the Delhi University (DU) on Tuesday for the next batch of student representatives. The voting for morning students is open from 8.30am to 1pm while the evening classes students will get chance to vote from 3pm to 7.30pm.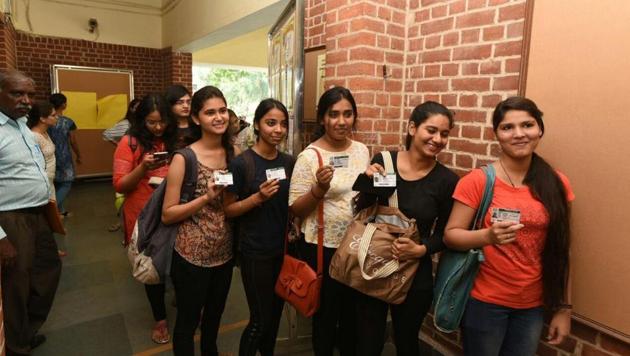 The candidates have been campaigning long and hard, with posters plastered across almost every inch of the campus, and have been looking at issues such as transportation and accommodation.
But, this time, besides the run of the mill issues, ideological matters will also come into play in the backdrop of the violence at Ramjas where the Left-leaning student outfits clashed with the RSS-backed ABVP.
The major players in the fray include the Akhil Bharatiya Vidyarthi Parishad (ABVP) and Congress' student outfit National Students Union of India. The left wing All India Students Association (AISA) is also one of the more vocal participants.
"For the college union elections, I will vote for the candidates who came and met us personally; those who helped us out during the admission time and the first few days in college, about accommodation, books, exploration of the campus. For DUSU, I think I will have to rely on which candidates the seniors in my college are supporting," said Girish Kumar Gudda, a first year Life Sciences student at Ramjas College.
While the Jawaharlal Nehru University Students Union (JNUSU) polls are contested on national and political issues, the Delhi University Students Union (DUSU) polls are many a times determined by muscle and money power and grassroots issues.
For DU students, connectivity, accommodation, drinking water and canteen facilities still remain major concerns. However, this year, many believe what happened at Ramjas College earlier this year and the allegedly growing violence on campus, will have a direct impact on their decision when they reach the polling booth.
DUSU elections: Broken rules, dirty rivalry, dodgy nominees — it's quite a potboiler
Divyanshu Gupta, a student of Ram Lal Anand College said, "This year it will not be just about local issues but students will ideological preference at the back of their mind too while voting and there are high chances of polarisation of votes among two main students 'outfit in the campus politics."
The ideological battle lines are drawn mainly between the ABVP and AISA, who had clashed at Ramjas earlier this year; but many say it might actually be the NSUI who might emerge the winner in the midst of the tussle.
Deepika Sharma and Prashansha Wadhwa, third year history students at Kirori Mal College, said that many people do not see any merit in voting for AISA, as they do not think they can win. "People who want to vote against ABVP, but do not think AISA can actually win and do not want their votes to go to waste, may actually end up voting for NSUI," said Sharma.
A student of Motilal Nehru College , who did not wished to be named said besides the issue of transportation, connectivity, hostels and better drinking water or canteen facility, the elections, especially in off campus and South Campus colleges are also influenced by village heads.
"Most colleges are near to South Delhi villages. The candidates often seek helps of village heads who ask the boys of the village to actively participate in elections. For instance the villagers of Katwaria Sarai and Lado Sarai village will give a dictate to help a candidate in Aurobindo college and most students of villages studying there will caste vote accordingly," he said.