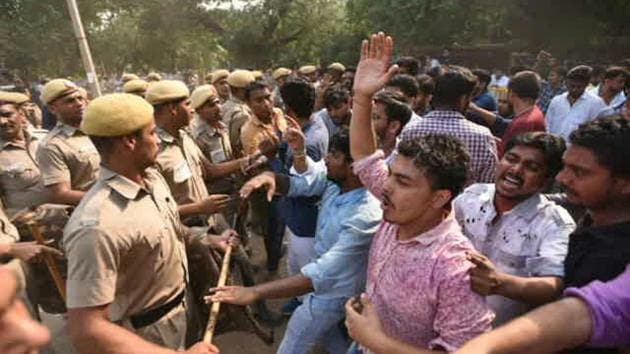 Congress credits NSUI win to Rahul's speech in Berkeley
Delhi Congress chief Ajay Maken said NSUI's victory showed that students had given a thumbs up to Rahul Gandhi's speech in Berkeley and had rejected Modi's speech on September 11.
UPDATED ON SEP 14, 2017 12:30 AM IST
New Delhi
The Delhi Congress on Wednesday described the DUSU election results as a rejection of the speech delivered by Prime Minister Narendra Modi on September 11 and acceptance of the Congress' ideology explained by party vice-president Rahul Gandhi in his speech in Berkeley on the counting day.
While Rahul Gandhi spoke on September 12 morning---the counting day---Modi spoke at length the previous day, addressing a students' convention to mark the 125th anniversary of Swami Vivekananda's Chicago address and BJP ideologue Deendayal Upadhyaya's centenary celebrations.
"Earlier, the plan was to hold the election on September 9, a weekend which has been the convention in the university. However, the election dates were deliberately pushed to September 12 in order to influence the students with PM's speech a day before the poll. However, all efforts failed as students extended their support to our leader's speech in Berkeley," Delhi Congress chief Ajay Maken said at a press conference after the results.
The former union minister also alleged that the Delhi University administration has been working under pressure from the BJP-led central government and has been 'taking decisions to scuttle NSUI's prospects in the DUSU polls'.
Maken said the students' wing has challenged the result for the post of joint secretary and if required they would move court.
"First they cancelled the nomination of our presidential candidate. We got it restored by moving the Delhi High Court. On Wednesday, initially, our election agents were told that the result was 3-1 in favour of NSUI. Then the ABVP demanded for recounting for the joint secretary post. It seems to be rigged as the cameras were switched off. Now we have demanded recounting," Maken said.
The DU administration said the grievance cell will take a call on the application.
Congress spokesperson Manish Tewari said ABVP used unfair means to win two seats.
"The NSUI has all options open. You must have seen how the NSUI candidate for presidential post's nomination was cancelled in an inappropriate manner. Later, Delhi HC cleared his nomination," he said, referring to Rocky Tuseed who won the election.
"Today, he won the seat with a huge margin. This is not single example. The atmosphere in the country is changing. The person who misled the youth, he (Narendra Modi) is now being taught a lesson by them," he added.
Tewari said: "NSUI had also won the Punjab University Students Union and Rajasthan University Students Union elections. This is a sign of the wind of change in the country. The process of change has started with the NSUI."
Close